Collaboration for task-specific gloves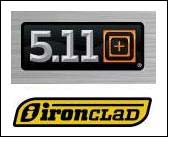 Ironclad Performance Wear Corporation a leader in high-performance task-specific gloves and apparel, and 5.11 Tactical, which creates and distributes products that enhance the safety, accuracy, speed and performance of law enforcement, firefighting, emergency medical and military professionals, announced that the two companies have entered into a long-term development and supply agreement. The relationship combines the renowned technical glove expertise of Ironclad, with the superior market understanding and distribution capabilities of 5.11 Tactical.

Under the terms of this development and supply agreement, Ironclad will exclusively design and manufacture the full line of task-specific gloves which will be sold, marketed, and distributed worldwide by 5.11 Tactical. The gloves will carry the 5.11 Tactical brand, and will be further co-branded as "Built Tough By Ironclad".

"Hand protection and grip enhancement are very important needs for police, fire, first-responders and the military," said Ed Jaeger, Ironclad's founder and head of business development. "By combining Ironclad's technical expertise in designing task-specific gloves across a wide range of industries with 5.11 Tactical's superior understanding of the end-users' needs and industry requirements, we will be bringing the best, most advanced products to this market."

The law enforcement, firefighting, EMS and military markets each have unique requirements that demand creative and highly technical solutions. Gloves for law enforcement require dexterity, breathability and puncture resistance, while gloves for fire fighters must also be fire resistant, heat dissipating and durable.

"5.11 Tactical has always prided itself on developing, producing and selling the best products available for our customers," said Dan Costa, President and CEO of 5.11 Tactical. "We realized that to meet this objective, we needed to partner with the best technical task-specific glove company in the world. We're confident that our customers will find our next generation of gloves vastly superior to anything else on the market."

Design and production of 5.11 Tactical's gloves under this agreement are already underway, and they are expected to be widely available through 5.11 Tactical's dealer network and Website in early 2010.

Ironclad, which created the performance work glove category in 1998, continues to leverage its leadership position in the construction and industrial markets through the development and introduction of specialized task-specific gloves for industries, such as oil & gas exploration and automotive. With its focus on innovation, design, advanced material science and durability, Ironclad engineers, manufactures and sells a comprehensive line of task-specific gloves and performance-fabric apparel. Ironclad's products are available at hardware stores, home centers, industrial suppliers, lumber yards, and sporting goods retailers nationwide; and through authorized distributors throughout North America, Europe, Australia and Asia.