HEATTECH wear - pronoun for winter worldwide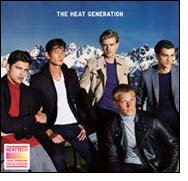 HEATTECH – the Japan technology wear from UNIQLO that sold 28 million units worldwide last year. And this year, we have added new anti-static and non-deforming functions to further perfect the range. The design and color variation now on offer for HEATTECH is so rich that you can hardly call it innerwear anymore. Our global sales target for the range is 50 million units. UNIQLO is aiming to use HEATTECH this year to transform what we wear in winter, and to even transform the world's winters.

HEATTECH - the UNIQLO global mission embodied
The UNIQLO global mission is to create truly great clothing with new and unique value for people all over the world. HEATTECH is one of the mission's forefront products. HEATTECH, jointly developed by UNIQLO and world leading textile manufacturer TORAY INDUSTRIES, has gone from strength to strength since its launch in 2003. Sales reached 28 million units last winter as many customers purchased HEATTECH items. HEATTECH has grown and developed into a product range that embodies UNIQLO's global mission to offer value to customers by commercializing Japanese fiber technology, a technology that is recognized and respected all over the world.

- HEATTECH – the pronoun for winter worldwide
In 2009, we will be looking to use HEATTECH to transform winter from a cold, heavy clothes season to a warm, lightweight dressed season. We have now complemented HEATTECH's original heat-generating and comfort functionalities with a design and color range so rich as to transform the range from innerwear to fashion item. This winter we will be preparing 50 million HEATTECH items for sale. Our aim is to offer the forefront Japan technology wear to customers around the world, transforming what we wear in winter, and making HEATECH into the pronoun for winter worldwide.

- HEATTECH – the functionality
We have added two extra functions to our HEATTECH range for 2009 – the anti-static and the non-deforming functions. All this functionality concentrated in the HEATTECH:
HEAT GENERATION: As HEATTECH absorbs body moisture, the movement of tiny droplets actually generates heat to keep you warm.
HEAT RETENTION: Air pockets between the fibers retain both body warm and the warmth generated by HEATTECH's moisture absorption.
MOISTURIZING: Milk protein is mixed with the fiber for a soft but supple feel on the skin. (Women's)
QUICK DRY: HEATTECH fabric wicks away and quickly dries moisture. Perspiration dries up instantly, so the fabric remains dry and refreshing. (Men's)
ODOR CONTROL: A special antibacterial agent in HEATTECH helps to minimize odors.
STRETCHABLE COMFORT: HEATTECH stretches to give you a perfect fit and maximize comfort.
ANTI-STATIC: Thanks to its unsurpassed moisture retention properties, the fiber also reduces discomfort from static electricity, when putting on and taking off the garment (NEW).
NON-DEFORMING: Highly resilient and durable, HEATTECH maintains its shape even after repeated washing (NEW).