Leading knitters & weavers love ADVANSA Thermo°Cool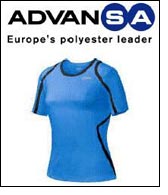 Less than two years since its launch, Thermo Cool has proven its position on the market and continues with success as ever more knitters sign up to become Thermo Cool licensees and more and more garment manufacturers use this innovative, high-tech fibre in their collections.

Drawing on ADVANSA's industry leading experience in multi-channel fibres and in functionalities of fabrics, ADVANSA has designed Thermo Cool with multifunctional characteristics: to provide not just evaporative cooling in order to keep the user cool and comfortable when the user is hot and perspiring, but also thermo-buffering, when the user is cold and shivering; the fabric reduces the exposure impact with external temperatures, keeping the user warm and thermo regulated. Hence the body is kept at a comfortable temperature level whatever the outside temperature or the physical intensity of the wearer's activity. For customers concerned about the environment, Thermo Cool is also available in an ECO version that uses a polymer made from renewable resources, such as corn, instead of traditional petrochemical derivates.

"Thermo Cool"is becoming more and more interesting for Workwear and Corporate Wear applications," informs Silvia Toledo, Market Manager ADVANSA. "Leading knitters and weavers are supporting us in our efforts to respond to the market's requirements with new product developments; they are offering to garment manufacturers various styles in Thermo Cool fabrics to provide multifunctional garments according to the needs of the wearers."

Latest fabric developments in Thermo Cool In addition to the existing fabric types in single jerseys and piqué, more Thermo Cool blended and bonded fabrics are available in the market: Schümer(Germany) produce blends with cotton or Tencel.TDV(France) offer blended fabrics with cotton, as well as IBQ (Spain), Akin Tekstil and Bossa (Turkey). Blended fabrics with wool are supplied by Becker Fabrics (Germany), Fitecom (Portugal) and Hijos Rafael Diaz (Spain). Devetex (Germany), Lemar (Portugal) and Subrenat (France) are specialized on woven linings. Webatex and E.J. Kluth from Germany offer bonded products with Thermo Cool Alpex (France) produces high-quality laminated material with Thermo Cool fabrics made by Ghost (UK). Eschler Textil from Germany, Sintex from Czech Republic, A. Sampaio and Gulbena from Portugal, Pontetorto from Italy, Sofileta from France, Fieratex from Greece, Flotats, Lurbel and Isoral from Spain, Barco Tekstil from Germany and Orneule Oy from Finland are finding in Thermo Cool the perfect combination for body temperature regulation and are offering single jersey and piqué. Several Asian manufacturers developed Thermo Cool fabrics: Unique Way,Joinfair, Textile Tech, Helun Knitting and Shanghai Challenge have various jersey und piqué fabrics in their collections.

Success in the Sportswear Market
New Wave Sportswear has seen the advantages of Thermo Cool which has been specifically designed to provide multi-functionality: evaporative-cooling and thermo-buffering, reducing the exposure impact with external temperatures, protecting the user from temperature changes, especially in demanding Rowing Regatta Competitions.