Massimo Dutti @ Avenida receives 'A' Energy Rating through ICAEN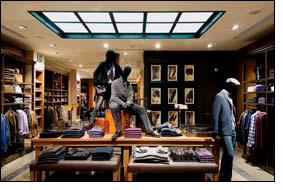 A new Massimo Dutti store located at Avenida Diagonal 484 in Barcelona has received an "A" Energy Rating from Spain's Ministry of Industry, Tourism and Trade through ICAEN in accordance with European Union Directive 2002/91/EC. This "A" rating, the first to be awarded to a retail outlet in Spain, represents the highest possible score for energy efficiency in buildings.

Improvements in lighting, air conditioning and heating and ventilation systems allow the store to reduce its average electricity use by more than 30% vs. conventional shops, preventing the emission into the atmosphere of the equivalent of 36 tonnes of CO2 per year.

The eco-efficiency measures implemented at the Diagonal outlet are examples of the environmental initiatives Inditex is developing through its Eco-efficient Store project, a component of the Group's Environmental Strategic Plan. The new Massimo Dutti shop is one in a series of pilot programmes through which the Group is making progress on introducing improvements to facilities, materials and processes in order to fashion a new concept of the environmentally-friendly store.

The "A" Energy Rating represents an endorsement of efforts made in this area by Massimo Dutti's Architecture Department, in conjunction with the Inditex Group's Environment Department, in recent years. Their work has focused primarily on improvements to lighting and air conditioning/heating systems.

Lighting
By incorporating the latest advances in lighting technology, the shop has cut the electricity it uses for lighting by more than 40%. The establishment features fewer points of light than a conventional shop, optimising display lighting and increasing the use of LEDs (light-emitting diodes), which were at first used only for signage but are now a feature of the store's interior fittings and overall lighting scheme.

Additionally, the site's design ensures the best use of electricity for lighting by allowing the different areas of the store to be partially lighted depending upon the day's schedule and planned activities, and includes automatic motion-sensors to turn lights on and off in staff areas.

Air conditioning/heating and ventilation
With improved thermal insulation materials and an adjustable ventilation system using CO2 monitors to gauge occupancy, the Company lessened the store's cooling and heating demands, which in turn allowed it to install smaller and more efficient air conditioning units.

The air conditioning units incorporate inverter technology, which allows them to regulate their power flow to suit the establishment's cooling needs and adjust their output as the store's requirements change. System performance is enhanced by a thermodynamic heat recovery mechanism using extraction fan air, lowering the units' condensation temperature.

The air curtain at the entrance is sensor-controlled and features three operational strengths to adjust for the temperature inside the store, generating significant energy savings when the difference between the indoor and outdoor temperatures does not require the system to blow heated air.