ANTA unveils official sportswear designs for Chinese athletes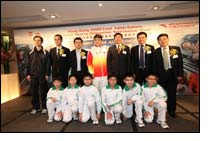 ANTA Sports Products Limited kicked off the "Hong Kong 2009 East Asian Games Chinese Sports Delegation Sportswear Show" in Hong Kong. The event's theme was "Support China Altogether". During the event, Chinese Olympic Committee ("COC") Secretary General, Mr. Song Luzeng, joined ANTA Sports management in offering their best wishes to athletes from Mainland China and Hong Kong in their performance in the upcoming East Asian Games ("EAG"). ANTA-designed official sportswear to be worn by the Chinese Sports Delegation ("CSD") in the EAG was also unveiled in the event. What's more, in a further demonstration of ANTA Sports' commitment to promoting sport among the younger generation, ANTA Sports' endorsed player, table-tennis world champion Wang Hao, played in a friendly match with the winning team of 2008-2009 Inter-Primary School Sports Competition for the Hong Kong West District from St. Joseph's Primary School.

Since 23 June 2009, ANTA Sports has been the official sportswear partner of the COC and is responsible for outfitting the CSD in 11 major international competitions from 2009 through 2012, including the Guangzhou 2010 Asian Games and the London 2012 Olympics Games. During the 9-day games from 5 through 13 December, the CSD will be outfitted by ANTA sportswear at victory ceremonies in the EAG.

According to ANTA Sports' Executive Vice President Mr. Zheng Jie, the sportswear's designs have incorporated various traditional Chinese elements and used the red and yellow of China's national flag as their theme colors. Emblazoned across the front of the sportswear are the Chinese characters of China in calligraphy style and which are actually made up of rows of ventilation holes, while the word "CHINA" adorns the back. Mr. Zheng said, "Calligraphy is the most representative of Chinese artistic forms. Its influence in Asia, particularly East Asia, has been especially profound, and it therefore goes well with the spirit of the EAG. Moreover, we were meticulous in the selection of fabrics and materials for the sportswear. By collaborating with DUPONT, we have been able to further enhance the materials' ability to resist grease, dirt and water, making them easier to keep clean while enhancing their durability."

Another major international competition in the heels of the EAG is the 2010 Winter Olympic Games ("WOG"), to be held in Vancouver, Canada in February. Apart from being the official outfitter of the CSD, ANTA Sports also announced the endorsement of eight renowned winter sports Chinese athletes on 1 December as part of its marketing campaign surrounding the WOG. The newly endorsed players are China's first Winter Olympics gold medalist in short track speed skating Yang Yang, world champion freestyle skaters Han Xiaopeng and Li Nina, pair skaters Pang Qing and Tong Jian, and Zhang Hao and Zhang Dan, as well as short track speed skating rising star Zhou Yang. The athletes will star in a WOG television commercial series produced by ANTA Sports.