Gap shortlists 20 finalists for next faces of babyGap & GapKids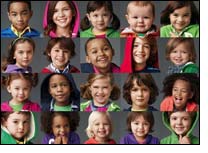 After a month of sorting through nearly a million entries of eligible cuties, Gap revealed the 20 lovable finalists in its nationwide contest to find the next faces of babyGap and GapKids. Now through December 21, it is up to America to log onto website and decide which four children - one baby girl and one baby boy for babyGap and one girl and one boy for GapKids - Gap will feature in store windows from coast-to-coast and will receive incredible prizes from Gap and Disney Family.

"Parents' enthusiasm for the Gap Casting Call made this year's contest the biggest to date," said Pam Wallack, president of babyGap, GapKids and GapMaternity. "We received nearly one million entries, beating the record from the past three years. Each year the decision process gets increasingly harder. There are so many outstanding babies and kids to pick from, choosing just 20 finalists to represent our brand out of all these adorable children was challenging to say the least."

Introducing the 20 Casting Call Finalists:

Baby Girls [ages four and under]:

Addison, 3, from Yukon, OK, is quite the entertainer. She loves dressing up like a princess, making up songs and dancing around the living room. When she isn't listening to Disney Princess songs, she is filling up on her favorite food--ice cream!

Audrey, 3, from Bakersfield, CA, loves to laugh and have fun. Her upbeat and witty personality is what makes this three-year-old shine. Her favorite game is hide-and-seek - but watch out, Audrey will jump out and scare you when she screams, "ROAR!" Audrey's favorite food is tacos with rice and beans.

Elliana, 2, from Wadena, MN, is a real girl's girl. She loves shoes, shopping and painting her nails. When she isn't adorned in jewelry and watching The Little Mermaid, she's having fun tackling her three big brothers.

Gisele, 3, from Dumfries, VA, is a pop star in training and loves to dress up and pretend she is Hannah Montana. With her sunglasses and sister's guitar, Gisele rocks out in her living room singing, dancing and laughing.

Angelo, 3, from Daly City, CA, loves hanging out with his playgroup friends at the California Academy of Sciences and the San Francisco Zoo. When Angelo is at home, he loves dancing to the Beatles' Yellow Submarine soundtrack.

Caiden, 4, from Birmingham, AL, might be the next Derek Jeter! When he's not playing baseball, Caiden loves playing with his Nintendo-DS. He has a natural ability to light up the room with his outgoing, friendly and magnetic personality.

Gavin, 3, from Feeding Hills, MA, rides around the yard on his John Deere tractor and four-wheeler and loves helping Daddy rake leaves. He often tells people, "I'm a rock star" and jams out on his musical keyboard.

Leonardo, 21 months, from Valencia, CA, has a ton of energy. He loves playing with dogs, as well as balls and toy cars. He can even do a great impersonation of Cookie Monster. Leonardo enjoys days at the park watching the ducks with his Mom and sister, Sophie.