Fitness trends 2010 by Kings Road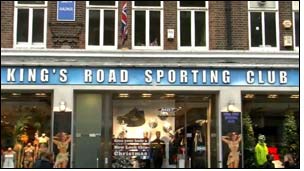 KRSC provides a large number of A-list celebrities and even royalty with everything they need to get fit while looking great.

KRSC's Store Manager, Anne Bartlett, knows better than anyone the fitness secrets of the stars and here she unveils a few of the celebrity fitness activities that will be big in 2010 and what the stars will be wearing whilst they get into shape.

Camron Diaz - Running
Cameron loves to wear bra tops and running leggings from Casall to show off her figure. Products are made with technical fabrics to whip away sweat, and bra tops have a mesh cross back, which allows the body to breath.

Liv Tyler – Hula Hoop
Liv opts for fitted clothes for her workouts. Her favourite styles include Beyond Yoga and she uses the weighted Casall hula hoop to give her even more of a work out. Look out for the cross back tank top and great fitted leggings.

Kate Hudson – Spinning
Kate loves cycling and attends spinning classes to keep fit. Gore bike wear is her brand of choice. She opts for fitted tops with built in support and padded cycling shorts for intensive sessions on the bike.

The store also caters for 'Yogistas' – stocking a wide range of equipment, accessories and clothing for all types and intensities of traditional and contemporary yoga styles including Bikram (Hot Yoga).

Anne Bartlett also takes us through her selection of the best of the latest yoga gear and clothing that will be available for 2010.

Lululemon Athletica Groove Pant
All purpose low impact sports pant with waistband pocket for gym cards and Coolmax gusset designed for comfort. This pant is made of a quickdry material (Luon), is also reversible and comes in both regular and tall leg lengths

Lululemon Athletica Define Jacket
A versatile all sport warm up jacket made from Luon that is meant to fit close to the body. The best design feature is the back vent- it makes you waist look so small!

Casall Fancy Tank Top
This tank has built in support with a clean and feminine style as well as great moisture management as it is made from RapidDry fabric. Perfect for the gym, tennis or golf!

Zenzation Pure Earth Eco Yoga Mat
A 4mm 2 tone yoga mat. It is moisture and bacterial resistant and 60% lighter than standard PVC mats. Most important- it is Earth friendly and 100% biodegradable and recyclable.

Tonic Hot Pants & Bra Top
Made from Supplex, this set is not only functional but also really fashionable. It's a must for anyone trying Bikram or hot yoga where clothing should be kept to a minimum!

Finally Whether you are running for fitness or marathon training KRSC has one of London's best stocked running departments with footwear brands including Asics, New Balance and Mizuno and apparel from Gore, SKINS and Nike to name a few. Head Buyer David Conitzer, himself a keen runner, has selected his top running product picks for the New Year.