Rafael: D'Accord Shirts to become America's shirt in 2010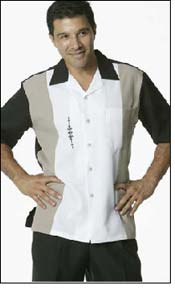 D'Accord President and CEO, Rafael Contreras Jr has determined that his company's great shirts will become America's shirt in 2010. D'Accord shirts was founded in 1980 by his father Rafael Contreras Sr and himself.

Rafael Contreras gets compliments from end users of the beautiful and manly shirts that he designs and manufactures with pride in Miami Florida, USA. He gets calls and e mails from the continental US and even from London ,Spain and Switzerland with comments on design, fit and workmanship. He knows that D'Accord shirts are a "best kept secret" because the small company does not have much of a marketing budget.

He has a great product but not enough shouting from roof tops spreading the word. D'Accord is a great product with dedicated workers that produce a very well crafted shirt. Rafael is grateful for the phone calls and e mails that he receives .He is particularly proud of a letter that he has framed on the wall of his showroom facing the parking lot of Wynnwood neighborhood that at one time harbored over 100 US garment manufacturers and now he is the" last man standing."

The complimentary letter is from a childhood hero of his,Clint Walker from Cheyenne and The Dirty Dozen fame,Rafael Contreras is such a fan of Clint Walker that he crafted the two pocket saddle stitch shirt that he wore on "Cheyenne",the great western show that ran 8 seasons. Mr Walker is 6'6" and the 2X shirt fit him perfectly as he states on the letter beside the personalized photo of himself wearing the shirt. Letters like this and from every day Americans and regular folks motivates him to really get D'Accord on the map and become like he likes to say "America's shirt".

The elegance, the comfort, the unique design and attention to workmanship is all there. D'Accord shirts are usually worn by 25 year old men and up. D'Accord shirts are really cross generational. We see in the showroom shirts like Charlie Sheen would love to wear, and the banded bottoms sought after by men that seek good looks and comfort.

We see outstanding linen shirts in long and short sleeves as well as casual shirts in microfiber polyester that have the appearance of linen or cotton but are totally easy care.

Wearing a D'Accord shirt is an experience in itself. The usually microfiber polyester that Rafael likes to say " this is not our father's polyester ! This one breathes and feels cool and soft on your skin" does feel soft on your skin and you could probably throw it in your suitcase and it will be good as new when you take it out to wear it.

Rafael is also proud of the guayaberas that he has assembled in Yucatan. He always emphasizes that the guayaberas is the only items not manufactured in the USA and that never in the history of the USA has a guayabera factory been established. The world renown guayaberas are the top choice of dignitaries and past US presidents and presidential candidates. Rafael is also proud of a letter and photo he received from George Bush 41 along with apicture holding up two D'Accord guayaberas.