AGS Textil Solution looking to close distribution deals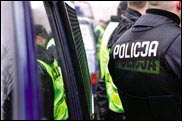 A police operation carried out simultaneously in the centre of Warsaw and two other Polish cities managed, on Dec. 18, to dismantle up to seven stores operating without authorisation under the name of the renowned luxury Spanish brand Pietro Baldini. The stores, located in major shopping malls in the capital such as Mokotów Gallery, Zlote Tarasy, Arkadia, Blue City and Wilenski, as well as in other large malls in other cities, were mostly selling imitation Pietro Baldini products. The action was the result of an investigation conducted by Polish police officers following a complaint filed by the owner and designer of the brand, AGS Textil Solution S.L., for crimes against Industrial Property and the deception of consumers.

AGS Textil Solution S.L., with headquarters in Spain, denounced both the imitation of its prestigious brand and the deception of consumers, this was due to the fact that it was claimed that products were made of silk when in fact they were wholly or partly polyester. This unfortunate and serious occurrence was revealed by the results of a study of the fibres performed in a specialised laboratory.

Pietro Baldini is the brand responsible for the creation and marketing of the world s most exclusive tie, the Pietro Baldini Diamond, and all of its original ties are 100% Jacquard silk. The shawls, scarves and pashminas from the luxury collection Pietro Baldini Femme are always prepared with the finest silks, cashmere, wool, cotton or a combination of natural fibres. Hence, Pietro Baldini original products are made exclusively with high quality raw materials and natural finish, never with mixed fabrics such as polyester or microfibre.

Tania Laux Nienstedt, head of marketing and communication at AGS Textil Solution S.L., and owner of the luxury designer brand Pietro Baldini, notes that "the damage done to our brand is irreparable, but worst of all is the deception that consumers have suffered. Pietro Baldini is synonymous with the highest quality and will remain so in the future."

"In fact, we have plans to expand to Poland very soon and are currently looking to close distribution deals in the country," adds Tania Laux Nienstedt.

The major police operation has resulted in a judicial proceeding in which AGS Textil Solution S.L., in its capacity as owner of the Pietro Baldini brand, will appear as special prosecutor, fully confident that the criminal and civil responsibilities will be duly investigated owing to the seriousness of the allegations.

Although AGS Textil Solution S.L., owner and designer of the luxury brand Pietro Baldini, has warned its customers of the occurrence of counterfeiting in England, the Netherlands, the U.S., Russia, Italy and Switzerland, the Polish case is particularly significant because besides selling counterfeit products, the network had an infrastructure of shops identified without authorisation by the Pietro Baldini brand, which has legal protection.