Made by Niki innovative website to revolutionise lingerie trade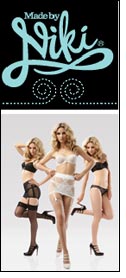 Made by Niki are transforming and evolving their wholesale operation for 2010 which will revolutionise the lingerie trade, by devising an innovative yet easy to use wholesale website. The website is designed to create a direct link between the Made by Niki team and buyers, a portal whereby the collections can be viewed style by style, in detail with close up images from every angle, video capture and notes from Niki herself to create a highly engaging experiential virtual store for the brand.

Once an account is opened and login details sent a buyer will have access to all the special features on the site, they can check the available stock on any item and create an order from their offices without having to schedule a buying appointment or travel to a trade show.

Scott Parker, Brand & Wholesale Director of Made by Niki says: "This wholesale website makes the buying process so much easier for our clients. If you can't spend time and money traveling to trade shows then you can do everything from your desk instead! You can preview and pre-order next season's collections in much greater detail than a normal look-book would provide. In addition, if you need a top-up mid-season, now there is a way to view and order without waiting months for the next opportunity to see the range."

The order is then emailed to the sales team and the buyer contacted immediately to verify the order in person and take payment. Made by Niki will be running a 'no minimums' policy on orders made via the site.

Parker continues: "We've had an overwhelmingly positive response already. Many of our clients prefer to use it to traditional methods because it's so transparent – if it's showing in stock then they know it's available straight away - and they love being able to respond to consumer size enquiries in real time. Our new wholesale website has even enabled new clients to become Made by Niki stockists – those who were previously unable to meet the buying minimum or unable to travel to an appointment now have Niki's collections within reach.

We believe the future lies with brands who can respond to their customers needs in a flexible way. Buyers can now choose whether to view our collections at a trade show or agent's showroom, or simply request samples and do the buying process at their desk."

Alexandra Gentara of Femme Fatale in Germany says: "The website is easy to use and offers us retailers a great possibility to overlook the available collections, to stock and to re-stock in time and makes the ordering process very smooth and easy. The shop system is a state of the art system and is easy to handle even for non-experienced web-users. Also I have an overview over my past and current orders and I have the best-selling items always at hand."

The cult UK lingerie brand, Made by Niki, now has four distinct ranges for 2010 that all carry the instantly recognisable "Made by Niki" signature of traditional corsetry inspired detailing reworked into ultra-desirable and modern must-have lingerie pieces that cater for every aspect of a women's lifestyle. The most recent launch is the ultra-modern British Body-con range of Slinkies which now due to demand carries a wait-list on the Made by Niki website in anticipation of their launch scheduled for early 2010.