Eberhard Bezner has been the man in OLYMP for 50 years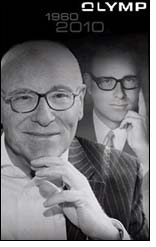 When the founder of OLYMP Bezner GmbH & Co. KG, Eugen Bezner, died suddenly at the end of January 1960, his son, Eberhard Bezner, had to assume responsibility for the up-and-coming clothing company in Bietigheim-Bissingen at the tender age of 24. This was no easy task for a young entrepreneur, even at the time of the economic miracle. On 4th February 2010, after five decades as a successful businessman, Eberhard Bezner will now celebrate his 50th anniversary as Managing Partner of OLYMP Bezner GmbH & Co. KG.

Eberhard Bezner (74) was born in Stuttgart on 31st December 1935 and grew up in Bietigheim and Ingersheim (Ludwigsburg district). In 1949, after having completed his school education, he began an apprenticeship as a textile and retail merchant in a textile company in Ludwigsburg that no longer exists. On 1st September 1953 he then started at OLYMP Bezner GmbH & Co. KG, initially working as a "jack of all trades". His varied and wide-ranging tasks included sorting and packing shirts, delivering shipments to the post office, writing invoices, all correspondence with customers and suppliers, as well as carrying out the occasional repair to a sewing machine.

Over the seven years leading up to the death of his father, Eberhard Bezner therefore had the oppor-tunity to ease himself into the business, before having to assume full responsibility as a manager and owner of what was still a small shirt company. He put all his energy into this task. Although everything didn't run smoothly over the years, and he also had to endure incredibly difficult times, from 1960 to 1990 OLYMP achieved steadily growing turnovers of up to DM 40 million annually.

When his son Mark Bezner joined the business at the start of the 1990s, the company received a substantial boost, which was reflected in the record year of 2009 with a turnover of Euro 116.3 mil-lion and sales approaching seven million items. Today Eberhard and Mark Bezner work together as Managing Partners in the company. His daughter Birgit Bezner-Fischer is a shareholder in the com-pany. He also has six grandchildren (three boys and three girls) aged between two and 17.

Even by the end of the 1960s Eberhard Bezner had the entrepreneurial foresight to gradually trans-fer shirt production abroad, as the growing metal industry was drawing increasing numbers of workers. The last OLYMP factory, located in Kißlegg/Allgäu, was only sold in 1988. The first for-eign production country was Croatia/Yugoslavia, later to be followed by Hong Kong, the Philip-pines, Taiwan, Myanmar and Indonesia. Nowadays OLYMP only works with tried and tested for-eign production partners in Croatia, Macedonia, Indonesia, China and Vietnam, with which, in some cases, it has enjoyed a trusting and close relationship for over 40 years.

As an entrepreneur and innovator he put lots of ideas into practice. The majority of improvements and innovations in today's OLYMP men's shirt, some of which arealso protected by design patent, are the result of many years of successful tests and trials. As an ambitious product specialist, he continues to work on further improving the outstanding qualities of the shirts such as non-iron and wrinkle-free properties, breathability and durability. Today this reliable performance forms the fun-damental basis for the enduring market success of the company.