Park Life Olympic Collection by Aritzia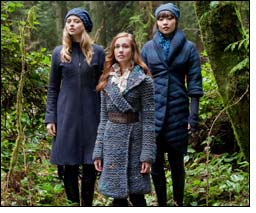 Having recently celebrated its 25th anniversary last October, leading North American fashion boutique Aritzia is preparing to mark a new milestone when the 2010 Winter Olympics begin in its home city, Vancouver. In collaboration with the Vancouver Organizing Committee (VANOC), Aritzia has designed the accessories awarded to medalists, which include the medal ribbon, cloth and case, along with costumes worn during the Victory ceremonies for the Olympic and Paralympic Games. Its Olympic-licensed collection, Park Life for Aritzia, is already available through stores across Canada and the U.S., including those in Chicago, Portland, San Francisco, Seattle and Short Hills.

Supporting VANOC's goal of delivering games that are "youthful, modern, creative and progressive," Aritzia also assists the Olympics in better reaching young female viewers through the company's focus on fashion-forward women age 15 to 35.

For the Vancouver Olympics, Aritzia's medal accessories include:

Medal ribbon: The Aritzia-produced medal ribbon, which holds the Olympic medal, portrays the coastal mountain range where the Games take place. Imagery woven into the jacquard ribbon features a gradated "sea-to-sky" color palette symbolizing the 2010 Winter Olympics motto "With Glowing Hearts."

Medal cloth: Produced by Aritzia based on a design by a prominent Canadian artist, the silk, ivory-colored cloth protects and polishes each athlete's medal. There are two designs: a square cloth for Olympic athletes with orca whale imagery and a rectangular-shaped cloth for Paralympic athletes featuring raven artwork.

Medal case: The 2010 Winter Olympics medal case marks a change from the hard, bulky cases of the past, allowing Olympians to better carry their medals and show them to fans. Compact, soft and lightweight, the case is made of heathered Canadian wool felt and is inspired by Asian and First Nations designs. The outside features tonal Vancouver 2010 embroidery, an antiqued metal emblem and magnet closures; the interior, the motto "With Glowing Hearts."

Along with medal accessories, Aritzia has also brought its fashion-forward design prowess to costumes worn during the Olympic victory ceremonies:

Medal and flower bearer, indoor: "The Heritage Sweater" -- Inspired by the knit and woven heritage of Canada's First Nations artisans, each sweater is original, hand-knit and finished with a color palette influenced by the sky, forest and ocean. Complemented by a hand-tooled belt embossed with First Nations artwork, silk embroidered scarf in hues representing the flags of all nations, and Royal Canadian Mounted Police boot.

Medal and flower bearer, outdoor: "The Cocoon Parka" -- Reflecting the subtle hues of a night sky and the sculptural shape of a cocoon, the parka features corset-style seaming and interwoven blues in a subtle plaid. Complemented by a cobweb-influenced scarf interlaced with leaves and foliage, a heritage toque updated with brushed gradients of blue hues, vintage knit ski top and pant, and RCMP boot.