Rose Bridesmaid adds Alyce, Cinderella & Eden collection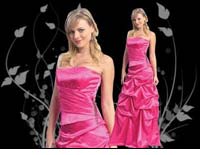 This season, The Rose Bridesmaid Dresses has expanded their bridesmaid dress selection, adding new dresses to their collections from Alyce Deisgns, Cinderella Divine, Eden Bridal and many more. Not only have they added more intriguing and elegant bridesmaid dresses, they have also introduced a line of junior and maternity size dresses for the blooming bridesmaids. Also available, are wide variety of flower girls dresses and boy tuxedos to meet every brides' needs.

The Rose Dress constantly keeps up with the latest fashion and designs, having added short bridesmaid dresses from Cinderella Divine. The benefits of this exciting and bright collection are that it offers discount /inexpensive and well-priced bridesmaid dresses. The Rose Dress added a large number of plus size bridesmaid dresses from Nari Anna and Poly USA that offers great quality dresses at affordable and discounted prices.

Bridesmaid Dresses Catalog Database

The online catalog available allows customers to see a picture of the each bridesmaid dress that is available for them to order. Fast and efficient, this online catalog database is list with creative designs to fit most bridal's party themes. A highly advance search is available and can accommodate most needs, such as color and price options. Having a niche for having the most organized catalog is one of the highest qualities for The Rose Dress. A magnificent taste in customer's satisfaction is rewarding for any consumer/customer.

Bridesmaid Dresses In-Stock Inventory

Their inventory is what The Rose Dress excels compared to most companies. They allow their customers to have access to their inventory to see what they have available in their warehouse for immediate delivery. They have over 10,000 dresses in their inventory that allows a large selection for their clients. Like the catalog database, customers can minimize their search by selecting a certain item number, color, size or price to narrow down their search to help them find the perfect dress for their event. This database is design to accommodate planning a last minute wedding and need dress immediately. By supplying their customers with the large selection of dresses, they have become one of the leading online companies in the garment business.

Higher End Designer Bridesmaid Dresses

As well as having a wide range of bridesmaid dresses, The Rose Dress displays an exclusive assortment of designer bridesmaid dresses, providing the customer an even luxurious option for their wedding. One of the most popular designers that they offer is Eden Bridal. A long wait period for these dresses, Eden Bridal will stitch these gowns for your bridal parties, offering a great sense of gratification for the customer. They are a reliable company that The Rose Dress is proud to have in their catalog and is available for their customer.

Plus Size Bridesmaid Dresses

To fit for your voluptuous bridesmaids, The Rose Dress offers a great amount of gowns for a bridal party. Not everyone is build to be the same size, which is why this company offers stylish and innovated designs for the plus size women. Sub categories are available and include Plus Size Mother of the Bride / Plus Size Mother of the Groom. A new, main page has been created for plus size dresses this season, offering sizes 4X, 5X, 6X, 7X, and even 8X on some designs, equivalent of sizes 18, 20, 22, 24, 26. The Rose Dress does their best to enhance option for bridesmaids of all sizes. Their bestselling designers: Cinderella, May Queen and Poly USA are their top designers for the plus size bridesmaid dresses.