Technology behind tao non-uniform uniform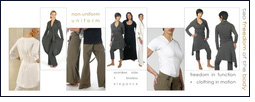 Finally: Uniform styles with a personality... adopting the belief that a stylish worker is a happy worker, tao freedom have found exciting ways to breathe life into the all too typical staff uniform looks in the spa uniform and hotel uniform industry. Tao freedom of the body, a fashion design company at heart, with 20 years of fashion design and textile experience; has just launched its new uniform and custom design website at taofreedomuniforms.com and intends to reinvent the uniform business.

No matter the profession, tao freedom uniforms has created a totally hip and stylish line of uniform wear suited to a wide variety of hospitality industry employees, with clothes that staff want to be seen in and out of work in. Flattering styles for all body types that deliver freedom of movement – functional, comfortable, low-maintenance care developed fabrics that have a low-carbon footprint on the environment.

"We are not your typical uniform company," says Clare Cook co-founder of tao freedom of the body. "Which is why we have coined the term 'non-uniform uniform'." "Gone are the days of 100% polyester shiny red jackets with gold buttons and starchy black and white maid, salon and spa uniforms, in their place fashion forward innovative styles that staff are happy and proud to be wearing; made with hard working eco-conscious developed fabrics that break the boundaries of the typical uniform looks."

Tao freedom of the body began its journey in 2003, a fashion lifestyle company the brainchild of designer and textile expert Dorothy Szeto and marketing exec Clare Cook. Clothes that take you throughout all the aspects of your busy day- looking stylish and feeling comfortable and confident in designs and developed fabrics that flatter all shapes, sizes and ages.

"Our goal has always been to create something that adds value for women, rather than just another piece of clothing," says Dorothy Szeto. "Since day one, we have strived to create something to make women's lives easier while not compromising on style". "Women should feel good about what they wear, whether a size 2 or a 20," adds Szeto.

The two never dreamed they'd manufacture uniforms for both men and women. Opportunity came one day when a hotel client, who retailed their spa/wellness wear collection, was using their collection for staff spa uniforms. They asked tao freedom to design a uniform look for their staff needing something not only truly stylish and comfortable but a look with a refreshing break from the all too common smocks and mandarin collar styled jackets that could be seen in the spa industry. "They wanted to utilize our unique and innovative developed fabrication and not the typical "polyester stretch" uniform fabrics that are so commonly available," says Clare Cook. "With a look that reflected their brand's identity in a professional, stylish, wearable, durable uniform."
Thus began a period of research and trade show appearances amongst employees in the salon, spa and hospitality industries. They discovered these professionals were searching for a look to complement their daily work that was not only comfortable and easy to maintain, but stylish staff were happy wearing for up to 10 hours a day.