Four new ventures rise from ashes of S&K Menswear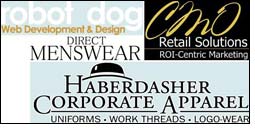 With the demise of S&K Menswear in 2009, four new Richmond, Virginia-based business ventures have risen from the ashes. The perfect economic storm that included a credit market collapse, consumer-led recession, housing and financial market implosions, all proved too strong for the off-price men's apparel retailer to overcome. S&K had struggled to change its business model fast enough to remain relevant, and the chain was forced to liquidate in August, 2009.

When a large business such as S&K fails, it can also create opportunity in the marketplace. The new ventures include a marketing consultancy, an e-commerce retailer, a uniform and logo-wear business and a web development company. These new businesses have an opportunity to flourish and grow, even within a continued difficult economic environment.

A new focus on small business also appears to be a good job growth strategy for America. According to the Labor Department, small companies created an average of 113,000 jobs per month, from February through December of 2009 – a period when total employment fell by a non-seasonally adjusted 3.7 million. Additionally, according to the SBA, small business generated 64% of all net new jobs over the past 15 years. Conversely, several large corporations such as Circuit City, S&K, Qimonda and LandAmerica Financial have shuttered their doors in the Richmond area over the past two years.

Here's a profile of the new business ventures:

CMO Retail Solutions, LLC – Formed by Bryan Kipp, former VP Marketing of S&K Menswear in June, 2009. Bryan has 20 years of senior level marketing and consulting experience. The firm is a marketing consultancy with a focus on strategic planning, digital communication and creating low-cost, high-return ROI-centric marketing solutions for retail and non-profit clients. Bryan commented, "I'm the guy you want to call when you want quantifiable results, but you don't want to spend a fortune in upfront media campaigns." He added "there's tremendous opportunity today for retailers to capture market share and grow their brand, at a significantly lower cost than using traditional agencies and media." They also have created a network of best-in-class smart partners to assist with specialized projects. They are currently working with several retail, business and non-profit clients.

Direct Menswear – Formed by Bert Hardy, former CFO of S&K Menswear in June, 2009 along with two other S&K alums – Brandon Atkinson and Kevin Ferguson. Direct Menswear is a family-owned and operated e-commerce retail business whose model aims to provide quality products and big savings. Selling exclusively on the web, direct to their customers, allows them to offer substantially lower prices. Their product offerings include a wide variety of menswear – from suit attire to casual wear to accessories. Leveraging their knowledge of retail e-commerce and relationships with apparel vendors, they purchased their initial inventory, rented warehouse space, built the website and infrastructure, and launched the business in August 2009. Since then, they have commissioned their own line of suits and are building a following of loyal customers who are attracted to their product, low prices and personal customer service.