Sensation 2.0 collection by RITRATTI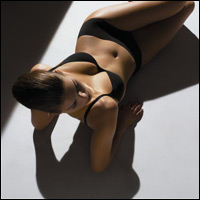 INVISTA, one of the world's largest integrated producers of polymers and fibres and owner of the LYCRA fibre brand, is pleased to announce a new commercial programme with Italian lingerie specialist, RITRATTI. RITRATTI, the leading Italian brand in the high-end intimate apparel segment, has created an entire collection using LYCRA 2.0 tape, one of INVISTA's latest innovation.

The collection, Sensation 2.0 by RITRATTI, is a revolution in the world of high quality feminine underwear and has been made with LYCRA 2.0 tape to replace stitching within the garments.

With its unique stretchable LYCRA 2.0 tape, INVISTA is revolutionising the market. Compared to other heat-bonding solutions already available, its exclusive stretch and recovery features enable the creation of ultra-flat seams and sleek garments with smooth finishings. Lingerie garments made with LYCRA 2.0 tape offer outstanding comfort, allowing them to accompany the body's natural movements. Hems made with LYCRA 2.0 tape keep their shape and performance even after repeated washes.

The Sensation 2.0 collection by RITRATTI is composed of two lines – Basic-Everyday and Shapewear.

The first micro-collection comprises of bras and three lower garments, creating a refined, elegant line that suits the lifestyle of young, dynamic women. They are high quality products made with the latest generation of fabric from Penn Textile Solutions, containing LYCRA fibre. The first bra is a redesign of a RITRATTI icon – Soft Air – and now has straps made with LYCRA2.0 tape for improved comfort.

The Caresse bra is a soft, preformed model (without wire) that features LYCRA 2.0 tape in the neckline to shape the cup onto the cleavage without leaving any mark. The lower garment line comprises of pieces with definite everyday appeal – a slip, a brief and a thong. The LYCRA 2.0 tape is used around the legs and waist to make these garments soft and ultra-flat, allowing them to adapt perfectly to every silhouette, creating a gently caressing "second skin" effect.

The Shapewear line is made with a technical fabric from Piave Maitex, also containing LYCRA fibre. These garments are the latest generation of designs for classics which have been given an ultra-modern revamp – a bodysuit with preformed cups, a high-waist brief and a panty. These are elegant garments for women who seek delicate figure support for a secretly sculpted profile. They are made with LYCRA 2.0 tape, which means much less stitching and which allows entire sections of the garment to be constructed with ultra-flat trim.

Sensation 2.0 by RITRATTI with LYCRA 2.0 tape provides a new dimension in comfort, creating hi-tech underwear for everyday. The construction of each garment means excellent fit and freedom of movement. These garments are barely visible under clothes and their light sculpting action brings out the best in the wearer's figure.

LYCRA 2.0 tape is a patented polyurethane-urea (PUU) elastic film with outstanding stretch and recovery power, made by INVISTA. In substitution of the traditional seams, it enables the creation of heat activated bonded hems, bands and seams that stretch and recover in response to the fabric they are applied to, perfectly following the body's movements and providing new levels of comfort.