Killick Datta as AAFA Board of Directors Chairman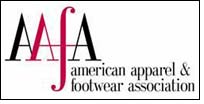 During the 2010 American Apparel & Footwear Association (AAFA) Annual Executive Summit in Washington, D.C., outgoing AAFA Chairperson Carol J. Hochman, President of RHH Capital & Consulting, Inc., turned over the chairmanship of the AAFA Board of Directors to Killick Datta, Chairman and Chief Executive Officer of International Brand Partners, LLC. The officer rotation ceremony was held Thursday, March 11, 2010 at a gala reception and dinner at the Newseum.

"Carol has been a tireless advocate for the U.S. apparel and footwear industry," said AAFA President and CEO Kevin M. Burke. "As the first woman to chair the AAFA Board and a proven industry leader, Carol brought unique and valuable perspective to this position. While I am saddened to see her turn over the gavel, I am thrilled that Killick will be picking up the reigns. His first-hand experience as a footwear executive will be a great asset to the entire industry. He will lead AAFA with distinction and I look forward to working with him as we confront the challenges facing our industry."

"I look forward to leading AAFA and the industry as we continue to address the emerging issues that hinder our business and impact our customers," said Datta. "As the global economy begins to strengthen, we will find that the opportunities far outweigh the challenges. To fully utilize new opportunities and maintain our competitiveness, we must be driven by innovation and outside-the-box thinking."

Currently Chairman and Chief Executive Officer of International Brand Partners, LLC, Datta has served as a former senior executive for Nike, L.A. Gear, Wolverine World Wide, Inc., and Skechers. Datta is also a member of the Industry Trade Advisory Committee (ITAC) on Textiles and Clothing, a group of stakeholders who provide the Secretary of Commerce and the U.S. Trade Representative with industry perspective on trade policy.

Burke also announced that Rick Darling, President of Li & Fung USA, has moved up to the Vice Chairman position, Philip Williamson, Chairman, President and CEO of Williamson-Dickie Manufacturing Co., has moved up to AAFA Board Treasurer, and Joseph Gromek, President and CEO of Warnaco, Inc., has moved into the AAFA Board Secretary position.

By a recent AAFA Board of Directors membership election ballot, twelve Board members were re-elected and four new nominees were elected to the Board of Directors to serve three-year terms through 2013. New to the Board are Jim Calo, Chief Supply Officer of Under Armour,

Michael Saunders, Chief Operating Officer of Kellwood Company, Gary Simmons, President and Chief Executive Officer of Gerber Childrenswear, and Doug Williams, Chief Executive Officer of HMX Corporation.

Through special appointments by the Board earlier this year, Gerald Evans, President, International Business and Global Supply Chain of Hanesbrands, Inc., David Murphy, Chief Operating Officer of Red Wing Shoe Co., and Timothy Scobie, General Counsel/CSO of Mason Companies, Inc., were confirmed to fill open positions on the Board.