Phantom introduces new Silks Cellu-Smooth Capri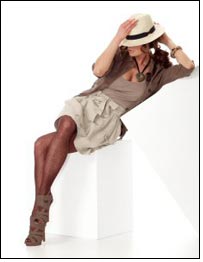 Phantom, Canada's authority on fashionable legwear and maker of the nation's best-selling hosiery brand – Silks – brings the latest runway trends to women's wardrobes for Spring 2010. The European-inspired Silks Desire and Silks hosiery lines deliver the season's top fashion trends at excellent price points. New styles include tribal influences; bohemian gypsy chic and a glamorous nod to the Greek Goddess. Just in time for the delicate, less-forgiving fabrics of spring, Phantom introduces the new Silks Cellu-Smooth Capri. It's the innovative, cellulite-smoothing solution for underneath the season's hottest pant styles.

"At Phantom our goal is to make the latest trends and innovations in hosiery accessible to Canadian women at the highest quality and best value," says Linda Whitehead, Marketing Consultant, Phantom. "Our new hosiery collection picks up on runway trends and really allows women to update their wardrobes easily and affordably. Women also come to us for figure-fixing solutions and will find them in our latest Silks Cellu-Smooth products."

The season's hosiery trend round-up sees a return to nude sheers, the perfect complement to delicate warmer-weather fabrics; look-at-me prints including florals, paisleys, patchworks, geometrics and animal; the oh so practical leggings and a colour palette that ranges from vibrant earth tones to neutrals.

She's fierce!
Fashion runways were crawling with animal prints as part of this spring's sophisticated tribal look. Hosiery is the purrrfect way to reveal your wild side. Get the glamazon look, made famous by exotic beauties like Shakira and Iman, by matching Silks leopard lightweight print tights in Black, Metal or Copper to your cutest miniskirts and leggy dresses for a styling night on the town. For the adventurous, daring, confident woman!

Gypsy chic
Inspired by the exotic and eclectic beauty of the Middle East – and often seen on bo-ho glam celebs like Nicole Richie – the gypsy look brings a treasure trove of rich tapestry and geometric-inspired patterns to spring wardrobes. Add a touch of gypsy chic with Silks paisley or floral striped pantyhose in Black or Natural; or perhaps a zigzag pattern in Black or Copper. For the sexy, dramatic, contemporary woman!

European-inspired Silks Desire brings the Goddess glam
What's your Desire? Silks Desire is Phantom's new, premiere line of European-inspired hosiery. With a wide variety of sophisticated, glamorous styles, Silks Desire features smooth finishes and sculptured textures with an absolutely sumptuous feel against the skin. From the sheerest sheers (10 denier) to luxurious, densely opaque tights (100 denier) – there's something to fulfill every woman's desire.

Emulating the sensual, romantic and graceful Greek Goddess, Silks Desire offers a range of hosiery to suit – elaborate brocades and florals and a palette of neutrals and deep rich hues. To get the look, typical of leading-lady Angelina Jolie, try the sheer wave pattern in Nero and Naturelle or the scroll crochet tights in Nero, Naturelle and Moka. For the feminine, graceful, elegant woman!