Pampers with Dry Max is the first high-tech diaper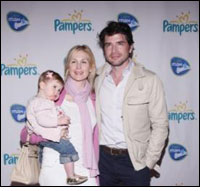 It's a high performance celebration fit for new high performance diapers! After years of research, Pampers, the world's leading diaper brand, has unveiled their game-changing diaper in a big way. Celebrities including Padma Lakshmi, Marcia Gay Harden, Ana Ortiz, Kelly Rutherford, Matthew Settle, Eric Mabius, Team USA medalists Chad Hedrick and athlete Noelle Pikus-Pace and mom designer Liz Lange (along with their families), celebrated the launch in New York City where some of the biggest stars of the night were not VIPs, but VIBs – Very Important Babies.

Featuring a VIB play area, demonstrations of the Dry Max technology and remarks from key influencers, the event brought to life all of the key benefits of new Pampers Swaddlers and Cruisers with Dry Max for parents, babies and the world. The product line is 20 percent thinner than Huggies Little Snugglers/Movers and are two times drier than Huggies Little Snugglers/Movers, meaning they help lock wetness in better, becoming the brand's new high performance diaper designed for the best players in the world – babies!

To help demonstrate the thinner, sleeker design of new Swaddlers and Cruisers with Dry Max, Pampers has teamed up with notable mom designer, Liz Lange, to create a limited edition diaper clutch specially designed for these new diapers. The partnership marks the evolution of the diaper bag to the diaper clutch as mom can carry a day's worth of Pampers with Dry Max diapers while feeling confident that the high performance diaper is keeping her baby drier. The clutch features interchangeable stroller, shoulder and wristlet straps for convenient carrying on the go, as well other features specially designed to hold mom and baby's every day essentials. A limited number of clutches are available for sale on eBags.com.

"As a mom, as soon as I learned about the Pampers with Dry Max diapers, I was inspired to create this new diaper clutch to specially fit this new line," said Lange. "I have made it my goal to create modern, stylish maternity and parenting accessories to help women look and feel like the beautiful women they are. From evolving maternity style to now evolving the diaper bag, I am proud to unveil this chic, versatile alternative to the bulky diaper bag. It's a revolutionary clutch for a revolutionary Pampers diaper!"

In addition to teaming up with Liz Lange, Pampers forged several high performance partnerships with world-class athletes and their families, including Super Bowl MVP Drew Brees and baby Baylen, Vancouver Olympic Winter Games speed skating medalist Chad Hedrick and daughter Hadley, and skeleton (forward-facing luge) World Champion Noelle Pikus-Pace and daughter Lacee, to help demonstrate how Dry Max scores high with the world's best players – babies! Celebrating babies and their level of play in the same forum as the most elite athletes, Pampers has created a high performance diaper to help them play on. By incorporating the Dry Max technology, new Pampers Swaddlers and Cruisers provide improvements in terms of flexibility and comfort.