LDFO - Recession's baby takes its first steps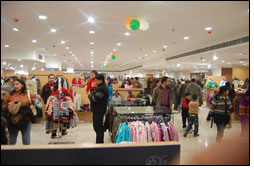 Indians are well-known for turning adversities in to opportunities. The recessionary trends that blew across the globe also cast its impact on the textile and apparel export sector in India. The Ludhiana hosiery and knitwear cluster was also affected to a great extent. But this did not dampen the spirits of the Ludhiana entrepreneurs, who joined hands together and attempt the first of its kind venture in India, in a bid to ward of the impact of the slowdown as well as safeguard themselves against any future shocks.

The Ludhiana Direct Factory Outlets (LDFO), a joint venture between local brands and property owners, in a manner resembles a cluster-based marketing strategy, under which resources have been pooled and synergies created. LDFO is made up of different product categories like mens wear, womens wear, kids wear, shawls, home furnishings and accessories and has on its shelves, brands like Octave, Monte Carlo, Madame, Waves, Creative Line, Confidence, Rage, Shingora Shawls, Sharman Shawls and many other brands. It has also recently opened its first store 'LDFO' in Ludhiana and houses 42 brands.

Fibre2fashion spoke exclusively to Mr Perminder Singh Behl, President of LDFO and also Managing Director of Veetrag India. Veetrag has been associated with many Ludhiana Hosiery business houses for decades and has been providing a range of marketing, PR and publishing services to these enterprises and the Knitwear Club.

We began by asking Mr Behl to reveal the main reason behind setting up of this unique venture to which he said, "LDFO has observed many forays made by the local industry to set up retail outlets and was able to analyze both the achievements and the shortcomings of these ventures from a close yet independent view point.

"A typical Ludhiana brand is a small or medium scale family owned enterprise and most of these companies are either winter wear oriented or summer wear and most of them found it difficult to sustain company owned retail outlets when it came to getting the ideal branding for their brands in spite of producing world class merchandise. All over the world, it has been seen that collective efforts can decrease the expenses but increase the profits if managed in a market savvy way.

"We undertook a detailed market study and held a few brainstorming sessions with many seasoned entrepreneurs including the Knitwear Club. It was obvious from these discussions based on hard core experiences that a typical Ludhiana hosiery industry entity can reap rich rewards if it becomes a part of a collective approach and thus was born LDFO. It brought together 42 brands, facilitated a professionally managed program and found the ideal property partner to open its first outlet, with the sole objective of LDFO being to provide an ideal retail platform for Ludhiana for its promotion.

"The brands have paid a joining fee, LDFO has invested in terms of the manpower and day-to-day management and the Gold Souk has invested in terms of the space. Since the three entities have pooled in their own resources, it has been made possible to extract the best advantage of each rupee collected. The combined pool of investment has been used in the most ideal way", he concluded by saying.