Apparel industry leaders address concerns at PSF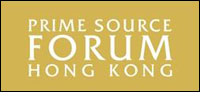 As the world continues to wrestle with the ongoing impact of the global financial downturn, more than 400 senior executives from over 20 countries representing all sectors of the apparel industry supply chain gathered at the end of March in Hong Kong for the fifth edition of Prime Source Forum (PSF).

Welcoming delegates to this year's annual meeting, Michael Duck, Director of the event organisers, APLF Ltd, commented: "This year's Forum will inevitably focus on the effect the world financial crisis has had on this multi-million-dollar industry and the steps it is taking as part of the worldwide drive to make manufacturing and retailing more sustainable.

"We are also delighted to welcome many new faces this year, in addition to the many regular attendees, confirming that the Forum is now established as a must-attend event for the industry's movers and shakers from all over the world."

Demonstrating the pivotal role that PSF plays in bringing apparel industry experts together, more than 70 panelists, each a specialist in his or her area, participated in this year's event, discussing the challenges and opportunities facing the industry. In addition, one day prior to the actual Forum, two workshops addressed two major operational issues – sustainability and the increasingly important role that technology is playing for both manufacturers and retailers.

Giving the opening address at the workshops, Nancy Nord, US Commissioner of Product Safety, said: "I think it's very appropriate to be talking about safety as we kick off this conference. At the end of the day, all of us here in this room want to sell the goods and services we make at a profit and you're not going to be able to do this if your business has to sustain the cost of a product recall, product liability suit or the damage to a business's reputation that comes with the public knowing that you make an unsafe product, so safety really is at the core of any discussion about sustainability."

The following day, Andrew Y. Wu, Group Director of LVMH China, opened the Forum with a keynote address in which he offered valuable insights on future markets and highlighted current consumer trends in China in his presentation entitled "Cultural Understanding of China in Rapid Transformation - Beyond Luxury Consumption".

This was followed by seven PSF sessions, each dealing with one of the major issues confronting the global apparel industry.These included the threat of protectionism, which was commented on by Janet Fox, SVP, Director of Sourcing of JCPenney and Chairman of the USAITA, who stated that, despite the threat, it was unlikely that there would be any sudden changes in trade polices affecting the textile and apparel trade between the US and Asia, and in particular China. "I don't think the US consumer is ready to pay higher prices for the apparel and textiles made in China that tighter trade polices could mean," said Ms Fox.