We're off to a strong start to the year – VF Chairman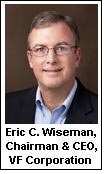 VF Corporation, a global leader in branded lifestyle apparel, announced results for the first quarter of 2010. All per share amounts are presented on a diluted basis.

First quarter revenues rose to $1,749.9 million from $1,725.5 million in the first quarter of 2009. Net income in the current quarter increased 62% to a record $163.5 million or $1.46 per share, compared with $100.9 million or $.91 per share in the 2009 quarter. As anticipated, earnings per share benefitted from lower pension expense and foreign currency translation rates, by $.05 and $.06, respectively, compared with the 2009 quarter. Also included in the current quarter was an $.11 per share tax credit as well as $.09 in restructuring expenses related primarily to actions to reduce product costs.

"We're off to a strong start to the year," said Eric C. Wiseman, Chairman and Chief Executive Officer. "Our first quarter results were stronger than anticipated, marked by improving revenue trends and gross margins that were even stronger than our expectations. Actions taken in 2009 to lower our costs and reduce inventories are clearly contributing to our stronger results. We're looking forward to accelerating top line growth in the second quarter and delivering a record year in earnings per share. Our confidence in the momentum of such key growth engines as our Outdoor & Action Sports businesses and our brands in China is evidenced by our plans to further increase investments this year behind very targeted marketing and brand-building initiatives in these businesses."

In conclusion, Mr. Wiseman noted, "Our brand portfolio is as strong as it has ever been - and the opportunities for future growth are compelling. Our investments are concentrated behind very targeted, high-impact initiatives that will build even greater connectivity between our brands and the consumers who wear them, ultimately resulting in continued strong, profitable growth."

First Quarter Business Review
Outdoor & Action Sports: Our Outdoor & Action Sports businesses achieved outstanding results in the quarter. First quarter revenues grew 10% with operating income and margins each reaching record levels for the period. Global revenues of The North Face and Vans brands grew 9% and 20%, respectively. Total revenues in our Americas businesses rose 11%, while international revenues were up 8%. Total direct-to-consumer revenues for our Outdoor & Action Sports businesses rose 28% in the quarter, with double-digit growth in The North Face, Vans, Kipling, Napapijri and lucy brands.

Operating income rose by 50%, with margins increasing to nearly 20% in the quarter, despite significant increases in marketing and other brand-building investments.

Jeanswear: Our core Wranglerand Riders businesses continue to perform strongly and gained share in U.S. mass market stores. In addition, revenues of our Lee brand in the U.S. rose 3% in the quarter, Asia jeanswear revenues grew by 40% and our European jeans business has stabilized. However, as anticipated, global Jeanswear revenues declined 7% in the quarter. A decline in our U.S. mass market business was due primarily to non-core programs that were discontinued in the second quarter of 2009; accordingly, revenue comparisons are expected to improve beginning in the second quarter of 2010. The exit of our mass market business in Europe contributed to lower revenues in our European jeans business but also was a factor behind the improved profitability of this business in the quarter. In addition to the strong growth in Asia, we also achieved double-digit growth in other international markets including Mexico, South America and Canada.