Strong growth in Core Intimates - Warnaco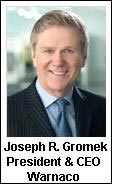 The Warnaco Group, Inc. reported results for the first quarter ended April 3, 2010.

Highlights for the quarter:

• Net revenues were up 9% from the prior year quarter
• Income per diluted share from continuing operations increased 23% to $1.03 compared to $0.84 in the prior year quarter, and includes $0.06 and $0.13, respectively, of costs related to restructuring expenses, pension expense, certain tax related items and other items
• Income per diluted share from continuing operations on an adjusted, non-GAAP basis (excluding the items above) was $1.09, a 12% increase, compared to $0.97 for the prior year quarter
• The Company purchased 1.5 million of its common shares
• The Company redeemed $50 million of its 8-7/8% Senior Notes; and on May 7, 2010 called for redemption the remaining $110.9 million balance

The Company believes it is valuable for users of the Company's financial statements to be made aware of the adjusted financial information, as such measures are used by management to evaluate the operating performance of the Company's continuing businesses on a comparable basis.

Joe Gromek, Warnaco's President and Chief Executive Officer, commented, "We are pleased with our strong first quarter results, which exceeded our expectations. Our revenue growth, higher gross margin and record earnings are a testament to the strength of our diversified global business model. Growth in our Calvin Klein businesses, led by double digit increases in all our key international geographies, as well as similar gains in Chaps and our Core Intimates business, resulting from expanded distribution and new product launches, drove a 9% increase in total Company net revenues. We were encouraged by our strong brand performance as evidenced by the nearly 6% increase in comparable store sales, including a strong performance in Europe, and believe we are well positioned to gain market share as the global economies recover."

"Looking ahead, we are optimistic about the prospects for our Company," commented Mr. Gromek. "In addition to powerful brands, Warnaco possesses a highly efficient business model, an established global infrastructure and an experienced leadership team. Taken together, they provide our Company with significant opportunities to use its strong balance sheet to fund key growth initiatives while creating long-term shareholder value. In 2010, we will continue to focus on the global expansion of our direct to consumer footprint and opportunities to expand our direct operation through strategic acquisitions of key distribution and franchise partners.

"We ended the quarter in a very solid financial position," commented Larry Rutkowski, Warnaco's Executive Vice President and Chief Financial Officer. "Our disciplined working capital management, led by significant inventory reductions, contributed to our strong cash position. We will continue to evaluate the most effective uses of cash to maximize shareholder returns."