My Macy's localization continues to drive profitable growth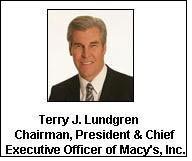 Macy's, Inc. reported first quarter 2010 earnings per diluted share of 5 cents. This compares with a loss of 16 cents per diluted share, excluding restructuring charges, in the first quarter last year.

"The momentum from our fourth quarter of 2009 accelerated in the first quarter of 2010. Our first quarter earnings were well ahead of what we originally expected," said Terry J. Lundgren, Macy's, Inc. chairman, president and chief executive officer. "We continue to see very positive results from strategic actions taken over the past two years. Today, we are much better able to anticipate and react to customer needs in each location through My Macy's localization. We are very pleased with the collaborative relationships we have created with our vendors through our unified national organization and we are much more focused on serving our customers holistically in stores and online through multichannel integration and targeted marketing.

"Macy's and Bloomingdale's both had an excellent quarter and outperformed most of their key competitors. While the direction of the overall economy remains unclear, we believe we are well-positioned to continue to gain market share," Lundgren said. "With major changes now behind us, the Macy's organization has settled in and is hitting its stride in capitalizing on the advantages of My Macy's. Our team is fully focused on driving sales by taking well-planned actions in each of our four strategic priorities - Assortment, Value, Shopping Environment and Marketing. Our entire organization, including the central offices and in the field, is energized and working in close collaboration.

"We are undertaking initiatives to expand both the Macy's and Bloomingdale's brands. This includes investments in multichannel integration strategies involving macys.com and bloomingdales.com. In addition, Bloomingdale's is planning to open a new smaller-format Bloomingdale's store this fall in Santa Monica, CA, and to launch a Bloomingdale's Outlet concept with four stores opening in the coming fall season. These new stores follow Bloomingdale's first international location, which opened in February in Dubai," he added.

Earnings were 5 cents per diluted share for the 13-week first quarter of 2010, ended May 1. This exceeded the company's expectations. As previously announced, first quarter results include $27 million in premium and fees related to debt repurchase activity and booked to interest expense.

In the first quarter of 2009, Macy's, Inc. lost 21 cents per diluted share. These results included restructuring charges of $138 million ($20 million after tax; 5 cents per share) related to division consolidations and localization initiatives. Excluding these charges, the company lost 16 cents per diluted share in the first quarter of 2009.

Sales
Sales in the first quarter of 2010 totaled $5.574 billion, an increase of 7.2 percent, compared with sales of $5.199 billion in the same period last year. On a same-store basis, Macy's, Inc.'s first quarter sales were up 5.5 percent.