Modest improvement in Gross margin rate - JCP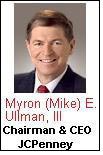 J. C. Penney Company, Inc. reported fiscal first quarter results that were better than initial expectations and showed further improvement in operating income margin. Earnings per share for the quarter ended May 1, 2010, were $0.25 compared to $0.11 per share in last year's first quarter. Net income for this year's first quarter increased 140 percent to $60 million versus $25 million last year.

First Quarter Highlights

•Earnings per share increased 127 percent to $0.25
• Comparable store sales increased 1.3%
• Gross margin rate improved by 90 basis points
• Opened 38 Sephora inside JCPenney stores bringing total to 193

"The first quarter marked a solid start to the year for JCPenney as customers responded well to the steps we have taken to reinforce our style authority with fashion sensibility, head-to-toe looks and promotions that made what we had to offer highly affordable for America's families. At the same time, the disciplined approach to managing our business allowed us to deliver strong gross margins, even as we work to increase our top line," said Myron E. (Mike) Ullman, III, chairman and chief executive officer of JCPenney.

"We know that our customers remain concerned about their budgets, however they respond well to merchandise that's new and trend-right at compelling prices. Our assortments are strong for the upcoming key appointment shopping periods, including Back-to-School. We will also launch Liz Claiborne(R) in almost 30 merchandise categories and MNG by Mango(R) -- both exclusive to JCPenney -- for the fall. Taken together, the balance of 2010 will be an exciting time for JCPenney as we focus on expanding our market share and delivering long-term growth."

Operating Performance
Total sales in the first quarter increased 1.2 percent compared to last year, while comparable store sales increased 1.3 percent. Six of the seven merchandise divisions had sales gains compared with last year's first quarter, with the strongest merchandise results in men's, shoes and handbags, and children's. Geographically, the best performance was in the southeast region of the country. Internet sales through www.jcp.com increased approximately 1 percent versus last year.

For the quarter, gross margin increased 90 basis points to 41.4 percent of sales. SG&A expenses for the quarter increased by $34 million versus last year, primarily due to new store openings and minimum wage increases that have occurred since the first quarter of 2009. Total qualified pension plan expense was $55 million compared to $81 million in last year's first quarter. As a percent of sales, total operating expenses were 37.5 percent in the first quarter, an improvement of 30 basis points compared with last year's first quarter.

Operating income for the first quarter improved 46.2 percent to $155 million or 3.9 percent of sales. Excluding the impact of the non-cash qualified pension plan expense from both the current and last year's first quarter, operating income increased 12.3 percent to $210 million, or 5.3 percent of sales, and adjusted earnings per share were $0.40 versus $0.34 last year. Reconciliations of non-GAAP adjusted operating income and adjusted earnings per share excluding qualified pension expense are included in this release.