IFC aims to help clothing firms capitalize on HELP Act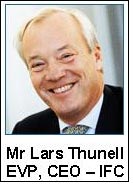 IFC, a member of the World Bank Group, remains committed to supporting Haiti's recovery by helping finance private sector projects and providing advisory services to improve investment conditions and create jobs.

During his first visit to Haiti, Lars Thunell, IFC Executive Vice President and CEO, said, "IFC has been a long-term partner to Haiti, supporting private sector projects with one common objective—to create jobs for the Haitian people and help improve their quality of life. The private sector has a key role to play in generating employment, which will be essential for Haiti's sustainable, long-term recovery."

Thunell, who met with President René Preval and representatives of the Haitian private sector, said, "Along with international relief efforts, it is essential that local firms have access to finance to spur employment opportunities and that funding be available for infrastructure that improves Haitian's quality of life and promotes trade. In these challenging times, the private sector and the government must work together to improve the investment climate, stimulate economic growth, and give Haitians the tools to lift themselves out of poverty."

IFC has invested $65.6 million in Haiti's private sector since 2006, helping ensure access to finance for local firms and develop infrastructure. In the wake of the devastating earthquake, IFC's Board quickly approved a $35 million emergency investment program to help private companies get back to business.

IFC signed the first of these emergency commitments. IFC and the Soros Economic Development Fund, a non-for-profit investment fund that works to alleviate poverty, are together providing $6 million in financing to the apparel company Grupo M. This will expand the CODEVI free trade zone in Northern Haiti and create 2,000 new jobs by the end of this year, and 2,000 more by the end of 2011.

IFC aims to help textile firms capitalize on the HELP Act, which nearly triples duty-free quotas for Haitian clothing exports to the United States and extends trade preferences through 2020. Haiti's clothing sector has a significant development impact, accounting for 75 percent of export earnings and employing more than 25,000 before the earthquake.

IFC's focus in Haiti includes strengthening financial markets, with a focus on access to credit for micro, small and medium enterprises improving infrastructure, such as ports, roads and energy plants supporting agribusiness, and increasing telecommunications capabilities.

IFC also is ramping up its advisory services to improve Haiti's business climate and take advantage of investor interest This includes simplifying the regulatory framework for special economic zones, improving the country's ports and supporting the Haitian government's plans to descentralize zones outside of Port-au-Prince. IFC's goal is to help attract new garment companies to invest $30 million in Haiti, which will support 9,500 new jobs.