Perry Ellis COO pleased with strong Q1 results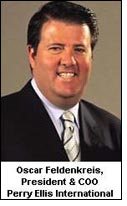 Perry Ellis International, Inc. reported results for the first quarter ended May 1, 2010.

• EPS increased 76% versus last year to $.81 and net income rose 92% to $11.2 million versus prior year.
• Company raises guidance for earnings per share and revenue for full fiscal year to a range of $1.45-$1.60 and $775-$795 million, respectively, from previous range of $1.25 - $1.40 and $770 - $790 million.
• EBITDA of $23.1 million increases 56% over prior year.
• 17% revenue increases in Perry Ellis Men's apparel and accessories businesses.
• Inventories reduced 9% vs. last year driven by continued disciplined planning.

First Quarter Results From Operations
"We are extremely pleased to report very strong results for the first quarter of fiscal 2011. Our multibrand, multichannel diversification strategy which is the foundation for our business platforms continues to prove successful in today's retail environment," commented Oscar Feldenkreis, President and COO of Perry Ellis International. "As the economy continues to show signs of a recovery, consumers are responding positively across our brand portfolio, reflecting our increased product focus. Our strong performance at retail has driven solid increases in our gross margins and positions us for continued revenue growth in the future."

For the first quarter of fiscal 2011, total revenues were $220.3 million compared to $220.0 million reported in the prior year period, and slightly ahead of Company expectations. Throughout the quarter the Company increased revenues by $17 million as a result of organic growth in several key core businesses as well as deliveries of the new brands that were launched during the quarter. However, this growth was offset by the previously announced exit of certain unprofitable businesses which represented $17 million of revenue for the first quarter ended May 2, 2010 ("first quarter of fiscal 2010"). With the increased mix of branded revenue, gross margins expanded by 420 basis points to 35.7% compared to 31.5% for the comparable period in fiscal 2010.

Mr. Feldenkreis, added, "We continue to see the consumer returning to more normal shopping patterns, which is contributing to increased shipments of our brands at most retailers. In addition, conservative inventory planning at retail combined with a favorable response to our offerings has translated into increased sell through rates at retail and less markdown assistance for our company. This has been a healthy development for all of us in the industry and in our case resulted in a substantial increase in our gross margin rate for the quarter."

Earnings before interest, tax, depreciation, and amortization ("EBITDA") for the first quarter of fiscal 2011 grew 56% to $23.1 million compared to $14.9 million during the first quarter of fiscal 2010. A table showing the reconciliation of EBITDA to net income is attached. In addition, net income for the first quarterended May 1, 2010 increased 92% to $11.2 million compared to $5.8 million for the period ending May 2, 2009.