John Abraham appointed brand ambassador of V Dot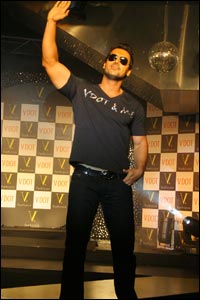 John Abraham was announced the brand ambassador for V Dot the clubwear brand from Van Heusen at an event held at Oberoi Mall,Mumbai where an all new V Dot line that promises to give clubwear a complete makeover was revealed .

The distinctive, bold and yet sophisticated V Dot line consisting of an eclectic collection that comprises an outstanding line of shirts, trousers, denims, knits, jackets, suits and blazers combined with cutting edge fashion sensibilities, superfine fabrics, surface embellishments and perfect accessorising, was showcased by V Dot models to a elated crowd.

After which John Abraham with his inherent sexiness and sophistication coupled with V Dot's smoking-hot 'wearable couture' line entered to thundering applause from the gathered crowd around the stage wearing a black t -shirt that said V Dot & me and cool trendy jeans from the newly launched V dot jeans collection. Reminiscent of his modeling days John sashayed down the V shaped ramp with great style and elan waving to his avid fans gathered on all three levels of the mall.

The crowd went crazy as John interacted with the crowd and mischievously invited some fans on stage to come feel the quality and the style of the clothes up close on stage. One of the spectators was so exited he decided to shoot a picture of John standing next to him on his camera phone right on stage and requested him to say Hi on camera to his mom at home , while a female fan was most excited to get the feel, cut and design of the V Dot t-shirt John was wearing. A third lucky spectator won a lucky draw and a chance for a photo op with the man himself.

In his inimitable style, John said: "I am proud and honoured to be associated with V Dot, not just because it is the coolest and most stylish clubwear brand in the country but because it's a reflection of my own sense of style. These are clothes I would willingly have in my wardrobe. It's young, it's sexy and very, very me."

Mr. Shital Mehta, Chief Operating Officer, Van Heusen added, "When it came to selecting the right brand ambassador for V Dot, the choice was unanimous. It just had to be John Abraham. He brings with him the irresistible blend of cool quotient and sex appeal, which is the space that V Dot occupies among the mindset of today's party animals."

Since its mind-blowing debut in the fall-winter of 2006 the brand V Dot has continued to set a scorching pace. Stacked across 60 exclusive Van Heusen stores and another 20 V Dot stores slated to open by the end of the year, it comes as no surprise that today it is the fastest growing Clubwear brand in India. Its success is amply evident – a CAGR of 75% over the last 4 years. With an unwavering focus that is centred around the ever-shifting tastes of the youth and a dedicated team rallying behind, it has admirably risen to the challenges thrown its way time and again and will continue to be the torchbearer of the trendy young Indian.