Stage set for further market expansion - Lakeland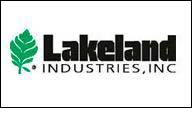 Lakeland Industries, Inc. announced financial results for its first quarter fiscal year 2011 ended April 30, 2010.

Management's Comments
Commenting on the financial results, Lakeland Industries President and Chief Executive Officer Christopher J. Ryan said, "We are pleased to report an improvement in consolidated revenues and gross margin for the first quarter of fiscal 2011. Upon reporting our year end results, we had anticipated a softer first quarter due to several larger contracts and certain seasonality issues. The improved performance was driven by continued growth from our international operations which generally deliver higher margins than our domestic sales.

"Since the end of the first quarter, a few events have occurred which we believe bode well for Lakeland Industries for the immediate and longer terms. The first event is the Gulf of Mexico oil spill. There appears to be minimal if any progress being made to contain the spill. As we have stated, in times of natural disaster, there typically is large and urgent need for the environmental, protective and safety apparel which we manufacture and distribute globally. Although we have increased production of these types of products at our facilities around the world to meet the substantial increase in demand for oil spill containment and remediation purposes, we are presently capacity constrained and the back orders are mounting. We are also experiencing severe stockout conditions as a result of our winding down inventory levels in anticipation of the EI DuPont de Nemours & Co. ("DuPont") transition.

"Reflecting the pick up in demand globally as the recession had abated with economic and industrial growth returning in many corners of the world, during the first quarter we had already begun to see our manufacturing capacity become challenged. As a result, we had anticipated sales growth in the second quarter and thereafter. The requirements pertaining to the Gulf of Mexico oil spill are incremental to this anticipated growth.

"Later in the year, we expect our manufacturing capacity to be realigned as a result of a second event. In May we disclosed a new agreement with DuPont relating to our licensing and production of garments using their material. Lakeland Industries was recently named one of what is expected to be a limited number of wholesale distributors for the sale of DuPont garments in the United States. To this end, we will remain a supplier to our existing customers and we will have additional marketing opportunities domestically. DuPont will supply us with finished goods, which means that, except for custom orders, we will no longer be purchasing from DuPont the raw materials that are made into the garments, nor will we be required to hold such large quantities of raw materials, work in progress and finished goods in our inventory. A substantial portion of shipping costs and related logistics and support personnel expenses also will beeliminated. This agreement is being phased in as we work through our remaining inventory and certain modifications are anticipated. However, we expect that upon full implementation as the year progresses we will significantly reduce our annual expenses.