DEST & Macy's expand maternity apparel leased department deal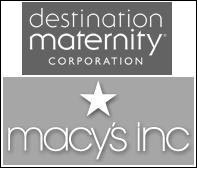 Destination Maternity Corporation, the world's leading maternity apparel retailer, and Macy's Inc., one of the premier retailers in the United States, announced the expansion of their maternity apparel leased department relationship. By the end of February 2011, moms-to-be will be able to find the quality, style and value they have come to expect from Destination Maternity at over 615 Macy's department stores throughout the United States. Currently Destination Maternity operates leased departments in 113 Macy's locations in the United States, typically carrying a mix of Motherhood Maternity and A Pea in the Pod branded merchandise.

Destination Maternity produced merchandise will be the exclusive maternity and nursing apparel offered in Macy's locations. Destination Maternity leased departments within Macy's typically carry a combination of Motherhood Maternity branded merchandise and A Pea in the Pod branded merchandise and, consistent with My Macy's localization approach, product assortments will be tailored to each store location. With quality fashion and a broad assortment specially designed to complement the pregnant silhouette. Destination Maternity operated leased departments in Macy's have something for every mom-to-be.

Ed Krell, Chief Executive Officer of Destination Maternity, commented "We are delighted to expand our relationship with Macy's under an exclusive multi-year arrangement that is a win for Destination Maternity, Macy's and moms-to-be throughout the United States. Our relationship with Macy's, which dates back nearly 20 years, allows us to bring our knowledge as the maternity apparel fashion experts to a broader customer base, while providing us exclusive access to Macy's shoppers. This expansion serves to deepen our position as the leading maternity apparel retailer in the world."

"We are very pleased that A Pea in the Pod and Motherhood Maternity will be the exclusive brands offered in our maternity collection," said Jeff Gennette, Macy's Chief Merchandising Officer. "Both brands are recognized for their style and quality, which are important to our customer. With this expansion, we are able to offer expectant moms across the country merchandise that is fresh and fashionable."

After giving effect to the Macy's expansion, Destination Maternity produced apparel will be available in more than 3,200 locations in the United States and Canada, including approximately 700 company-operated stores, approximately 1,500 leased department locations, and more than 1,000 licensed locations.

Macy's, Inc., with corporate offices in Cincinnati and New York, is one of the nation's premier retailers, with fiscal 2009 sales of $23.5 billion. The company operates about 850 department stores in 45 states, the District of Columbia, Guam and Puerto Rico under the names of Macy's and Bloomingdale's. The company also operates macys.com and bloomingdales.com. Prior to June 1, 2007, Macy's, Inc. was known asFederated Department Stores, Inc.