Billabong to acquire Canadian West 49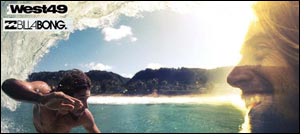 Billabong International Limited announced it has entered into a definitive acquisition agreement with West 49 Inc, pursuant to which Billabong will acquire West 49 for C$1.30 (A$1.451) per share, for an enterprise value of approximately C$99.0 million (A$110.4 million)2. West 49, a TSX listed company, is a leading Canadian specialty retailer of apparel, footwear, accessories and equipment related to the youth action sports lifestyle.

The acquisition of West 49, one of Billabong's existing retail partners in Canada, is expected to be EPS accretive in FY2011 and is an important step in Billabong's strategic evolution. The acquisition:

• Increases the availability of Billabong's brands in the key action sports market of Canada
• Provides the ability to increase wholesale throughput of Billabong's existing brands via an expanded retail network – currently across West 49's portfolio Billabong has a brand share of approximately 15%
• Increases Billabong's participation in an important distribution channel including providing greater influence over the store environment and brand image presented to consumers
• Provides the opportunity to expand on West 49's current platform to enhance premium action sports retailing in the Canadian market
• Provides North American retail expertise and efficiencies for Billabong's expanded retail network
• Enhances retail presence providing Billabong with faster feedback on consumer trends and the ability to test product
• Provides increased branding opportunities, which in turn will drive demand
• Broadens Billabong's retail portfolio to better target key Canadian demographics via West 49's banners

West 49 is a well known partner of Billabong's and therefore a logical addition to help achieve Billabong's long term business strategy.

West 49 was founded in 1995 by Sam Baio, the current Chief Executive Officer, is headquartered in Burlington (near Toronto, Ontario) and has 138 primarily mall based stores in nine provinces across Canada. Under the five banners of West 49, D-Tox, Off The Wall, Amnesia/Arsenic and Billabong the business targets the key Canadian tweens and teens demographics which spend a combined approximately C$2.5 billion per year on clothing, footwear and accessories.

The acquisition of West 49 will supplement Billabong's existing North American retail footprint, lifting today's company-owned store count from 90 to approximately 230 doors in this region and gives Billabong a global retail presence of approximately 510 company-owned stores.

Billabong Chief Executive Officer Derek O'Neill said the introduction of the West 49 banners into the Billabong stable will increase the penetration of Billabong's brands within the Canadian market.

"West 49 is a complementary business and promises to be an ideal Canadian distribution platform for Billabong to showcase its brands and extend its reach to the end consumer."

Billabong North America General Manager Paul Naude said that West 49 had an excellent understanding of the Canadian market and had positioned its banners to address specific market demographics and needs.