Be ready for little77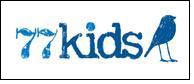 77kids by american eagle, the kids brand from American Eagle Outfitters, Inc., announced plans to open seven 77kids by american eagle brick-and-mortar stores, beginning in July. In addition, the brand is launching little77, a new line of clothing and accessories for babies zero to 18 months.

The little77 brand will be available online and in the new brick-and-mortar stores, and includes a rich collection of denim, graphic tees, hoodies, and "kid cool" fashion items for boys and girls. The little77 newborn collection features boys', girls' and unisex essentials for the littlest customers. Both 77kids and little77 strive to deliver a combination of fashion and function that is different from anything else in the marketplace. The first 77kids store will open in Pittsburgh at The Mall at Robinson on July 15. Other confirmed locations are listed below. The location of the seventh store is not yet confirmed.

• Danbury Fair, Danbury, CT
• Mall of America, Bloomington, MN
• Cherry Hill Mall, Cherry Hill, NJ
• Carousel Center, Syracuse, NY
• Crabtree Valley Mall, Raleigh, NC

"Designing the 77kids store experience has been a labor of love for our entire team," said Betsy Schumacher, chief merchandising officer, 77kids by american eagle. "We are striving to create an environment that showcases our 'kid cool' assortment, while also offering an interactive, entertaining shopping experience unlike anything else. Our goal is to make 77kids the first and last stop at the mall for on-trend clothing and accessories for babies and kids."

Unique store design elements include a "denim canyon," featuring the extensive 77kids denim collection. Games will be projected onto the floor to entertain kids while parents shop. Additionally, each store will have two 77kids interactive touch screens. Using these screens, customers can:

• See their reflection in a special mirror and interact with a mae-believe world of animated characters.
• Select key 77kids outfits, which will appear virtually on the user like a digital paper doll.
• Play DJ and eventually select music to be played in the store.
• Pose for photos, which can be customized with personal messages and graffiti, then printed at the checkout area to take home or post in the store.
• Swipe 77kids loyalty cards to receive special offers and prizes.

Each store will also feature a "Pick Yer Prize" Goodie Bar from which kids can select from an array of fun prizes and candy. Special prizes will be offered to loyalty program members and on kids' birthdays.

Launched in October of 2008 as an online only brand, customer response to the 77kids brand has been extremely positive. In October of 2009, the company opened a small pop-up store in the Pittsburgh area. Sales in the pop-up far exceeded expectations, even in a small space with a limited assortment. Information gleaned from the pop-up store, combined with extensive customer research, informed the design elements and other innovations in the permanent stores.

news category
---
Related Categories:
E-News Insight