Apparel exports could do with more incentives - Mr Vaid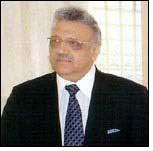 President of Garments Exporters Association, Mr.Rakesh Vaid comments on the current Apparel Exports Scenario. The Garment Sector of the Textile Industry plays a significant role in the economic development of the country. It is the highest employment generating industry which offers unlimited opportunities to weaker sections of the society especially women. It is one of the most dynamic sectors of the Indian economy and has made significant progress over the years not only in respect of its contributions to Industrial production, exports and generation of employment but also in achieving a high degree of sophistication, quality up-gradation, cost reduction and standardization capable of withstanding stiff international competition.

However, post-quota growth in our apparel exports remained so far below our potential and expectations because of various disability factors. Mr.Vaid said, the increasing input cost, tight credit policy and high interest rate, severe liquidity crunch, rigid and outdated labour laws, poor infrastructure and high transaction cost, high power cost and frequent power cuts and increasing cost of wages are some of the difficulties being faced by exporters which should be mitigated to the extent possible and a long term solution should be finalized for the efficient functioning of exporters.

Mr.Vaid pointed out that global meltdown has increased the international competition and reduced the demand of garments due to slowdown in the world economy especially in the USA, EU and Japan which contribute to almost about 80 per cent of our exports. The recent steep hikes in fabric prices have also affected the competitive strength and performance of Indian Apparel Industry.

Mr.Vaid said, although there are signs of some improvement but the global economic outlook still remains difficult and the performance of our economy will be affected by the continuing global slowdown and domestic inflationary pressure.

The Labour-intensive garment export sector needs special consideration as it adds maximum value to the exported products using over 95 per cent indigenous materials. As the international apparel market has become highly competitive the government must reduce the transaction cost and grant necessary fiscal and commercial relief to the garment exporters to enable them to face the increasing international competitiveness.

Garment manufacturing is extremely labour intensive and will remain so even with greater automation. A congenial labour environment is, therefore, necessary to ensure maximum productivity. The obsolete and antiquated labour legislation has hindered the growth of the extremely labour intensive garment manufacturing. The restrictive industrial and labour laws restrain the management's capability to respond professionally, effectively and speedily to the fast changing dynamic international textile scenario. The Government should, therefore, introduce labour norms specific to garment manufacturers and exporters to enable them to meet the increasing international competition.