Socks deliver mid-single-digit growth @ Hanesbrands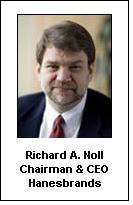 Hanesbrands Inc. raised its 2010 sales and earnings guidance after reporting that second-quarter 2010 net sales increased 9.1 percent and diluted earnings per share increased by $0.55 to $0.87, up from $0.32 a year ago.

An income tax rate adjustment in the quarter increased EPS by $0.20 compared with last year's quarter. Excluding the tax rate adjustment, EPS of $0.67 in the quarter increased by $0.35, driven by higher sales, improved operating profit margin, and year-ago restructuring, which added $0.32 combined.

Net sales increased by $90 million to $1.08 billion with double-digit increases for the company's three largest business segments – Innerwear, Outerwear and International.

Based on performance in the first two quarters, Hanesbrands is raising its 2010 guidance. Full-year net sales growth is expected to be 8 percent to 10 percent, up from the previous guidance of 6 percent to 8 percent issued after first-quarter results. EPS is expected to be in the range of $2.25 to $2.35, up from previous guidance of $2.15 to $2.27.

"We continued our strong start in 2010," Hanesbrands Chairman and Chief Executive Officer Richard A. Noll said. "Our brands are performing well with consumers, helping drive share gains in core categories and delivering strong productivity for the new sales programs we secured for this year."

Business Segment Summary and Highlights
The company secured numerous new sales programs that resulted in significant shelf-space gains for 2010. These programs contributed approximately 6 percentage points of the quarter's 9.1 percent sales growth. Increased retail sell through, retailer inventory restocking, and foreign currency exchange rates drove approximately 3 percentage points of growth.

Double-digit sales increases in the Innerwear, Outerwear and International segments combined for $103 million in sales growth, partially offset by a combined $14 million decrease in the Hosiery and Other segments. Direct to Consumer sales were up slightly.

The company's operating profit margin improved to 11.4 percent of sales in the quarter, up from 8.5 percent a year ago. The Innerwear, Outerwear and International segments generated $21 million of increased operating profit in the quarter, partially offset by lower operating profit in the Hosiery and Direct to Consumer segments. Restructuring and related actions reduced operating profit in last year's quarter by $13 million.

Key business segment highlights include:

• The 10 percent increase in Innerwear sales was driven by increases in all product categories except women's panties. Men's underwear recorded its second consecutive quarter of double-digit sales growth with strong share gains, while socks delivered mid-single-digit growth. The segment had operating profit growth even with increased investment in media and marketing in the quarter.
• During the quarter, the Hanes brand launched television advertising featuring Michael Jordan for new men's underwear products, and Playtex began airing a new television ad for 18 Hour bras. Additionally, the Barely There and Hanes brands launched new Smart Size bras featuring proprietary shape-to-fit technology in mass merchants and department stores.