Q2 revenues jump by 7% at VF Corp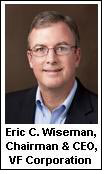 VF Corporation, a global leader in branded lifestyle apparel, announced results for the second quarter of 2010. All per share amounts are presented on a diluted basis.

Second quarter revenues rose 7% to $1,594.1 million from $1,485.6 million in the second quarter of 2009. Net income and earnings per share reached record levels in the quarter, with each increasing by 47%. Net income rose to $110.8 million or $1.00 per share, compared with $75.5 million or $.68 per share in the 2009 quarter.

For the first half of 2010, revenues increased 4% to $3,344.0 million from $3,211.1 million in the 2009 period. Net income rose 55% to $274.4 million from $176.5 million, while earnings per share also increased 55% to $2.47 from $1.59. Foreign currency translation rates benefitted earnings by $.06 per share in the first half of 2010.

"This was another outstanding quarter: revenues grew across all coalitions, gross margins reached record levels and earnings per share hit an all-time high," said Eric C. Wiseman, Chairman and Chief Executive Officer. "While current indicators point to a pause in the economic recovery, strong, highly profitable brands with compelling products that speak to consumers' needs can be successful regardless of the external environment. Our outstanding and diversified brand portfolio continues to perform exceptionally well and we look forward to a strong second half."

Concluded Mr. Wiseman, "I can think of no better way to demonstrate our confidence in the strength of our brands than by continuing to invest behind their global growth potential. We look forward to reaping the benefits of these investments this year in the form of strong revenue growth, record gross margins and all-time high earnings."

Second Quarter Business Review

Outdoor & Action Sports: Our Outdoor & Action Sports businesses achieved record revenues, operating income and operating margins in the second quarter. Global revenues rose 12% with strong increases in both our Americas and international businesses. Revenue growth in Asia was particularly strong, rising 28% in the quarter. Global revenues of The North Face and Vans brands grew 12% and 24%, respectively. Total direct-to-consumer revenues for our Outdoor & Action Sports businesses rose 13% in the quarter, with double-digit growth in The North Face, Vans and lucy brands.

Operating income rose by 35%, with operating margins increasing by more than two full percentage points to nearly 14% in the quarter, despite significant increases in marketing and other brand-building investments.

Jeanswear: Our global Jeanswear business resumed growth in the quarter, with revenues rising 2%. Domestic revenues rose 5% with growth in all three major businesses - Mass Market, Lee and Western Specialty. We were especially pleased with the 6% increase in our Mass Market business, driven by continued strength in our core Wranglerand Riders businesses.Revenues of our Lee brand in the U.S. rose 2% in the quarter and revenues in our Western Specialty business increased 5%. International jeans revenues declined 5% due primarily to the exit of our mass business in Europe. Solid growth continued in other international markets including Mexico, South America and Canada.