New refined strategy to unfold PUMA's long-term potential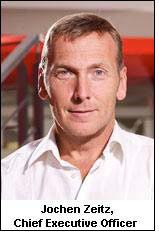 PUMA AG announces its consolidated financial results for the second quarter and first half of 2010.

Jochen Zeitz, CEO: "PUMA performed according to plan in the second quarter and we are gearing up for solid growth in the second half of the year based on a strong outlook. Given an overall improvement of the global economies as well as our decisive measures taken in the past 18 months to adjust our organization and processes to the new market realities, we feel ready to re-engage with our long-term expansion plan as of next year. "Phase IV revisited 2011-2015" shall enable us to significantly tap into PUMA's long-term sales potential of 4 billion Euros and beyond."

Sales and Earnings Development

Global Brand Sales
PUMA's brand sales in the second quarter – comprised of consolidated and license sales - increased by 1.3% in Euro terms.

Consolidated Sales
Consolidated sales in the second quarter increased by 2.5% in Euro terms to € 615.4 million. Currency neutral, consolidated sales softened by 4.8% on high comparables after closeout sales and a high inventory availability last year. Deliveries in June were impacted by late product deliveries and there were no pre-shipments unlike last year.

On a currency-neutral basis, Footwear sales were down by 9.7% at € 321.2 million and Apparel sales fell by 5.3% to € 208.6 million. Due to first time consolidations, Accessories sales improved significantly by 20.6% to € 85.6 million.

After the first six months, consolidated sales were down by 3.7% currency-neutral but increased by 0.1% in reported terms to € 1,298.5 million. Sales in EMEA and Asia/Pacific were below last year's levels.

Sales in the Americas region, however, increased 12.7% currency-neutral despite of the overall challenging market environment after both sub regions - North America and Latin America - sustained their positive performances from the first quarter.

Footwear sales declined currency-neutral by 7.2% to € 700.1 million. Apparel sales decreased by 2.0% to € 435.4 million. Accessories sales, however, advanced by 8.9% to € 163.1 million.

Gross Profit Margin
In the second quarter, the gross profit margin improved by 30 basis points from 50.0% last year to 50.3%. This increase mainly results from a lower share of closeout sales that more than offset negative impacts from currency hedging, the regional mix and higher raw material costs.

After the first six months, PUMA's gross profit margin reached 51.3% after 51.1% last year. Footwear reported 50.6% compared to 49.7% and Apparel 52.7% versus 52.3%. Accessories declined to 50.7% from 54.9% last year, which is mainly due to the increase in the scope of consolidation with the inclusion of Cobra Golf.

Operating Expenses
Operating expenses increased by 3.4% to € 250.5 million in the second quarter due to the inclusion of the Cobra Golf business into the consolidation as well as currency effects. Omitting these two factors, OPEX would be below last year. In the first six months operating expenses declined by 0.7% to € 492.8 million, which translates into a cost ratio of 37.9% after 38.2%.