Destination reports Q3 earnings higher than prior guidance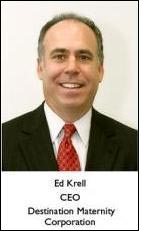 Destination Maternity Corporation, the world's leading maternity apparel retailer, announced operating results for the third quarter of fiscal 2010, which ended June 30, 2010, with its third quarter diluted earnings per share exceeding both its prior earnings guidance and its prior year third quarter earnings results.

The Company updated its earnings guidance for the full year fiscal 2010, with the projected results remaining within its prior earnings guidance range. The Company also introduced preliminary guidance for Fiscal 2011, reflecting strong continued projected earnings growth.

Commentary
Ed Krell, Chief Executive Officer of Destination Maternity Corporation, noted, "We are very pleased with the progress we are making in continuing to improve the profitability of our business, even in the face of a continued challenging sales environment. Our GAAP diluted earnings per share of $1.35 for the third quarter was 21% higher than last year, and slightly exceeded the top end of our prior earnings guidance range of $1.16 to $1.34, despite our comparable store sales decline.

"Our improved earnings performance is driven primarily by the expense savings from our cost reduction initiatives and our strong merchandise gross margin performance, as well as from the growth in sales of our leased department relationships and increased Internet and international sales.

"Our sales results for the third quarter reflect the negative effect of the continued difficult overall retail environment. Our sales performance for the third quarter was at the low end of our expectations, with our comparable store sales decrease of 4.9% for the quarter slightly lower than the low end of our guidance range of down 1.0% to 4.5% for the quarter, and our total sales of $142.0 million at the low end of our sales guidance range of $142 to $147 million provided in our April 28, 2010 press release.

"As we have indicated previously, although we are pleased with our continued progress in improving the profitability of our company, by no means are we satisfied or complacent, especially with regard to our sales performance, and we are keenly focused on initiatives to drive profitable sales growth, as evidenced by the re-launch of our business with Sears, the expansion of our Internet sales, the launching of international franchise arrangements in the Middle East and India, and the introduction of two exclusive maternity apparel lines with supermodel Heidi Klum.

"In addition, during this past quarter we made two exciting announcements regarding initiatives which we believe will position us well for continued future growth. First, on June 28, 2010 we announced the significant expansion of our maternity apparel leased department relationship with Macy's, to occur in February 2011, through which we will expand from our current 113 Macy's locations to over 615 Macy's locations throughout the United States, offering a mix of Motherhood Maternity and A Pea in the Pod branded merchandise.