Hanesbrands to buy a logo apparel seller company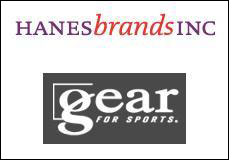 Hanesbrands Inc. announced that it has entered into a definitive purchase agreement to acquire GearCo, Inc., known as Gear For Sports, a leading seller of licensed logo apparel in collegiate bookstores.

Gear For Sports, which sells embellished licensed apparel under several brand names, including Hanesbrands' fast-growing Champion label, had sales of approximately $225 million and an operating profit margin of more than 11 percent of sales in its 2010 fiscal year ended in June.

The acquisition, expected to close in the fourth quarter, will be immediately accretive to earnings per share. The acquisition is expected to add approximately $0.20 in EPS in the first 12 months after closing, growing to approximately $0.30 EPS in the second 12 months.

"This acquisition will create great value and immediately add to our growth momentum," Hanesbrands Chairman and Chief Executive Officer Richard A. Noll said. "We have significant growth synergies in both the collegiate bookstore channel and our existing retail channels and can take advantage of our low-cost global supply chain. This acquisition is an excellent way to leverage the growth platform we have just built and create value for our shareholders."

The purchase price is $55 million in cash for shareholders' equity plus assumption of approximately $170 million of debt of the privately held company, which equates to a valuation metric of approximately 7½ times enterprise value to EBITDA.

In lieu of paying down existing Hanesbrands' debt at year end, the company will use 2010 free cash flow to pay for the acquisition and retire Gear For Sports' debt. Hanesbrands continues to project a 2010 debt-to-EBITDA leverage ratio of approximately 3½ times on a pro forma basis.

The acquisition is expected to close in the fourth quarter after completion of customary closing matters. All necessary approvals, including those of both companies' boards of directors and Gear For Sports investors, have been obtained. The acquisition requires no restructuring or write-offs and, therefore, will not be negative or dilutive to Hanesbrands' fourth-quarter earnings or to the company's current 2010 earnings guidance of $2.25 to $2.35 per share.

The Gear For Sports acquisition, which meets all of Hanesbrands' acquisition criteria, significantly strengthens the company's strategy of creating stronger branded and defensible businesses in its Outerwear Segment, which has included building its Champion activewear brand and increasing sales of higher-margin graphic apparel. After the acquisition, approximately 20 percent to 25 percent of Hanesbrands' Outerwear Segment sales will be graphic apparel.

"Gear For Sports is a graphic apparel powerhouse with a phenomenal team," said William J. Nictakis, Hanesbrands' president, chief commercial officer. "Together we have tremendous opportunities to expand, drive growth and take market share."

Gear For Sports seniormanagement will remain in place to run the business, and the administrative, operational, production and sales structure will remain intact, with management offices remaining in Lenexa, Kan. Gear For Sports President Larry Graveel intends to retire but will remain in his role for approximately six months, while Chief Financial Officer Craig Peterson and Executive Vice President of Sales Jim Malseed will remain in place and continue to lead the business.