Gross margin rate achieving new peak for Q2, JCPenney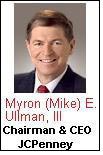 J. C. Penney Company, Inc. reported net income of $14 million dollars or $0.06 per share for the quarter ended July 31, 2010, compared to break even earnings per share in last year's second quarter.

Earnings for the second quarter include a charge of approximately $0.05 per share for bond premiums incurred in connection with the Company's debt tender offer completed in May. Comparable store sales were positive for the second consecutive quarter, increasing approximately 1 percent from last year.

In the quarter, the Company grew its store and Internet sales, while continuing to tightly manage its business and control expenses. This resulted in delivering record level gross margins for the second quarter, maintaining a strong cash position and financial flexibility to support its growth initiatives.

"Our focus on operating excellence allowed us to deliver improved profitability in the first half. Moreover, since the beginning of the year, we have been making changes in our merchandise assortments, introducing new brands and offering better style than ever before, in order to increase top line sales. The success of these initiatives, like our "wear now" strategy, was evident in our performance during the important appointment shopping periods and by the solid growth in profitable sales, particularly in regular and promotional priced merchandise throughout the second quarter.

"This strength was partially offset, however, in the final weeks of the quarter, by the non-comparable and short-term impact of tactical changes we are making in our clearance and catalog selling strategies. Over time, we are confident that these changes will position us to drive even higher levels of profitable sales," said Myron E. (Mike) Ullman, III, chairman and chief executive officer.

Back-to-school selling is off to a good start, fueled by new brands Uproar and Supergirl by Nastia and exclusive styles like Olsenboye and RS by Sheckler. The balance of 2010 has several exciting initiatives for JCPenney with the launch of Liz Claiborne, MNG by Mango and Call it Spring by The ALDO Group -- all exclusive to JCPenney. The Company will also open 16 additional Sephora inside JCPenney beauty boutiques, ending the year with 231 locations, bringing this highly successful offering to even more customers.

"Driving the top line is an important priority of our Long Range Plan. As we do this, we recognize that our customers continue to be under financial pressure, and we are dedicated to providing them with a shopping experience that offers the style they want and the value they need, while at the same time delivering industry-leading customer service. This is evident in the array of new brands at compelling price points that we will offer in the second half of this year, which will continue to redefine the JCPenney shopping experience for America's families," Ullman added.

Sales
Comparable store sales for the quarter increased 0.9 percent over last year while total sales were about flat, decreasing 0.1 percent, when compared to last year's second quarter. Total sales for the quarter were negatively impacted by approximately 160 basis points due to the discontinuation of the Company's Big Book catalogs this year.