ComWest completes Peerless Garments acquisition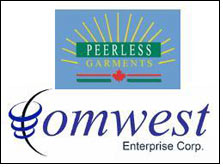 ComWest Enterprise Corp. is pleased to announce that it has completed the previously announced acquisition of the 90% interest in Winnipeg-based Peerless Garments LP held by a wholly-owned subsidiary of Newport Partners Income Fund. Peerless is Canada's leading manufacturer of protective harsh weather outerwear for military personnel.

In connection with the financing of the acquisition and for general working capital purposes, ComWest has completed a non-brokered private placement of 1,000,000 units at a price of $6.00 per unit for gross proceeds of $6,000,000. E

Each unit consists of one Class B voting common share in the capital of the Company at an issue price of $0.40 and one special warrant with an issue price of $5.60. Each Warrant entitles the holder to purchase one convertible preferred share on approval of a class of preferred shares issuable in series by shareholders at the annual and special meeting of shareholders to be held on August 30, 2010.

The convertible preferred shares will carry an 8% annual dividend, payable quarterly. Each convertible preferred share will be convertible at any time during the five year term at the option of the holder into seven Class A non-voting equity shares. The convertible preferred shares will be redeemable and retractable at the deemed issue price of $5.60 per preferred share after five years.

If the shareholders do not approve of a class of preferred shares issuable in series, the Warrants will be convertible into ten Class A non-voting equity shares. The Class B voting common shares, Warrants and underlying shares will be subject to a four-month hold period from issue date.

As the transaction represents a Change in Business under the policies of the TSX Venture Exchange, the continued listing of the Company's shares is subject to Exchange acceptance of the transaction and disinterested Shareholder approval. The shares of ComWest are expected to remain halted until such time as the Company complies with the requirements of the Exchange.

Investors are cautioned that, except as disclosed in the Management Information Circular and/or Filing Statement to be prepared in connection with the transaction, any information released or received with respect to the Change of Business may not be accurate or complete and should not be relied upon. Trading in the securities of the Company should be considered highly speculative.

ComWest Enterprise Corp.