INVISTA showcases LYCRA beauty fabric at Paris Mode City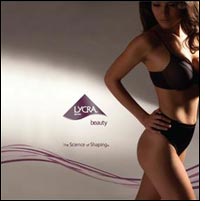 INVISTA, owner of the LYCRA fibre brand and one of the world's largest integrated producers of fibres and polymers, unveils a new platform for the changing needs of shapewear at Mode City Paris 2010.

INVISTA showcases LYCRA beauty fabric, a new concept focused on helping the industry address the needs of the rapidly evolving shapewear market. Fundamental global consumer research and studies of shaping garments and fabrics have revealed unique opportunities for growth and increased consumer satisfaction.

INVISTA found that nearly all women (93% Source: Strategic Insights. Global Consumer Shapewear Study 2009. 1,133 female participants from US, Brazil, France, Italy, Germany and UK) show interest in garments with shaping attributes, many of whom are new to shapewear and are looking for new functionalities.

Dedicated to leading intimate apparel with cutting-edge innovations that respond to consumer needs, INVISTA has introduced "The Science of Shaping" platform to help the industry develop fabrics and garments that bring a new level of performance and comfort to these shapewear consumers.

The right fabric for the right garment
LYCRA beauty fabrics are designed to improve the effectiveness of shapewear and to expand the options available to women. Consumers are looking for the secret advantages of more shaping, more comfort and more style that ultimately lead to more confidence.

LYCRA beauty fabrics provide the scientific foundation for essential shapewear versatility - ranging from firm control to featherweight smoothing and from understated elegance to high fashion style. To identify optimum fabrics, INVISTA created rigorous, multivariable metrics that define a fabric's shaping performance and comfort across a wide array of fabric and garment styles.

The LYCRA beauty fabric collection is segmented into four categories, Smoothing, Sensual Curves, Sculpt and Control to match diverse garment needs, depending on the priority of the garment brand's aesthetic, functionality and overt or subtle shaping design.

The Science of Shaping
The groundbreaking science behind LYCRA beauty fabric as a new performance and comfort standard has been validated by correlating fabric ratings with garment ratings during wear – both objective and subjective.

For this research, over 100 fabrics and 50 commercial garments were analysed with INVISTA's latest garment engineering technology to establish the predictive fabric ratings and performance standards.

To ensure that LYCRA beauty fabrics relate to improved garment performance, identical prototype garments made with similar fabrics that ranked differently against these new standards were assessed against several criteria (including degree of shaping as well as comfort during wear).

These garments were tested by placing force transducers between a fit model's body surface and key areas of the shapewear garment allowing INVISTA to measure the shaping force at rest as well as quantify the change in force (resistance) during body movement. This measured resistance to body movement was then correlated with the model assessment of comfort in motion.