Authentic Brands buys TapouT and Silver Star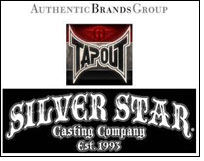 Authentic Brands Group, LLC, with offices in New York, Los Angeles, and Toronto, is proud to announce the acquisition of TapouT and Silver Star Casting Company (Silver Star), two of the biggest names in the mixed martial arts (MMA) industry. MMA is the world's fastest growing sport with billions of dollars in annual revenue and global appeal. Authentic Brands Group acquired TapouT and Silver Star as part of its multi-branded distribution strategy designed to protect brand integrity.

Authentic Brands Group has global brand building experience in apparel, action sports, consumer electronics, home and celebrity brands. The company's innovative marketing strategies include traditional and social media, and securing partnerships with high profile athletes and celebrities.

Authentic Brands Group's Chairman & CEO Jamie Salter said, "This sport is still in its infancy. We strategically chose these acquisitions as our first big move because we're getting into the right business at the right time. We're looking forward to working with the best brands and the best athletes in the world as we transition these two companies into global lifestyle brands with our retail and licensing partners."

With the acquisition of TapouT, Authentic Brands Group now owns the number one MMA lifestyle brand in the world, a brand name that has become synonymous with the sport itself. TapouT has global brand awareness that has grown alongside the MMA over the last 15 years by staying focused on the athletes and the fans. Built by three impassioned men who trained in MMA, the late Charles "Mask" Lewis, Dan "Punkass" Caldwell and Timm "Skyskrape" Katz, TapouT has maintained its authenticity through its rapid growth by staying deeply rooted in the MMA culture.

Caldwell said, "TapouT is more than a company or a brand to me, it is a way of life. With the passing of my best friend and co-founder Charles "Mask" Lewis, we've been through a lot. Now we are focused on continuing to set the standard as the industry leader, bringing to life Mask's dream of building a billion dollar empire. Authentic Brands Group understands what TapouT is about and they share our vision. Mask always said to simply 'believe' and that one word became our formula for success. We believe in Authentic Brands Group and they believe in us."

Silver Star Casting Company is a lifestyle apparel brand that has made its mark in the MMA, action sports and motor sports industries. Founder and President of Silver Star Luke Burrett, and his wife/ business partner Charis Burrett, have successfully marketed the brand across these sport categories by supporting athletes and keeping them accessible to the fans. Silver Star is committed to sponsoring only champion level athletes such as MMA middleweight champion Anderson Silva and fan favorite Clay Guida.

"Charis and I are extremely excited to work with the Authentic Brands Group team to take Silver Star to the next level. We've built our brand on staying true to our passion for sponsoring champions and making high quality products," said Luke Burrett. "We are confident that having Authentic Brands Group behind us will allow us to realize our goals and the potential of the brand."