JCP's Long Range Plan to drive substantial sales gains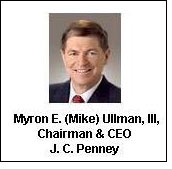 J. C. Penney Company, Inc. announced that it is expanding its presence in major markets which are currently underserved by the Company and offer great potential for expansion due to their demographic profiles. This initiative is a key component of JCPenney's Long Range Plan, which is expected to drive substantial sales gains over the next five years. It will begin with the opening, in 2011, of three new JCPenney stores in Daly City (San Francisco), Calif., Glenarden (Washington, D.C.), Md., and Dallas.

The Company also announced the transformation of the JCPenney in-store experience through its store renovation program. This program is designed to highlight JCPenney's most innovative new brands and concepts, including creating a more exciting shopping environment for customers. As part of the program, the Company has made significant in-store enhancements at more than 750 stores this year, including 76 major renovations. By 2014, the Company plans to complete major renovations at a total of more than 375 stores.

"Across America, there are markets that offer great potential for JCPenney due to their significant moderate income populations who value the style, quality and affordability that we offer and would seek out our private and exclusive brands. Due to our strong financial position, we will be able to intensify our presence in these markets in order to capitalize on this opportunity in the years to come," said Myron E. (Mike) Ullman, III, chairman and chief executive officer.

"This work, in combination with our ongoing store renovation program, will enable JCPenney to deliver on our goal of being an industry growth leader by maximizing sales productivity in our existing locations and expanding our customer base in key markets."

New Store Openings in 2011
In the spring of 2011, new JCPenney stores will open in Daly City (San Francisco), Calif. and Glenarden (Washington, D.C.), Md., and in the fall of 2011 a new store is planned to open in Dallas. These are all markets where JCPenney has an existing presence and strong track record of success. These three store locations mark the initial step in JCPenney's plans to open new stores through 2014 in support of a key objective of the Company's Long Range Plan -- to generate a total of $1 billion in sales growth through new store expansion over the next five years.

Transforming the In-Store Experience
By October, JCPenney will have made significant enhancements to the in-store experience at more than 750 store locations in 2010. The Company is investing a total of $160 million in these improvements as part of its $500 million of expected capital expenditure for the year.

As part of the 76 major renovations in 2010, each of these locations will now have a 1,500-square-foot Sephora inside JCPenney beauty boutique, bringing the total number of Sephora locations to 231 by year-end. Major store renovations are primarily in California, Florida, Illinois, Maryland, New York and Texas.