Mahesh Babu to endorse Provogue products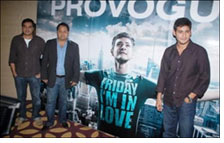 The pioneer of fashion brands Provogue has signed Tollywood Superstar and youth icon Mahesh Babu (Prince) as its new Brand Ambassador for Andhra Pradesh. At a Press Conference held at the Park on 29th of September, 10 Provogue unveiled its new campaign for the season specifically for Andhra Pradesh.

Mahesh Babu will endorse the products for Provogue in Andhra Pradesh through promotion, advertising and marketing. The popular Tollywood star, better known for his smooth dance moves and suave on-screen performance had built a strong connect for brand Provogue, India's premier fashion brand. The endorsement of Mahesh Babu as brand ambassador for Andhra Pradesh aims to create a platform where the brand is able to convey its brand attributes to mass audience in its region.

Mahesh Babu is one of the leading youth brands and his quintessential blend of youth and style makes for an ideal connect with Provogue, which stands for the ultimate in Style and Fashion. Provogue has shot an exotic Advertising Campaign with Mahesh that unveils the new campaign for the next season. Provogue is reinforcing its strong bond and connect with its target audience of youthful consumers.

Announcing the news at the launch event, Mr.Salil Chaturvedi, Deputy Managing Director of Provogue said, "Provogue stands for superb quality, innovation and style. Today Provogue is more than just a brand which reflects the mood and aspirations of New India. Mahesh Babu brings on board a terrific persona, a fresh and impeccable style, youthfulness and an extraordinary ability to communicate with a wide audience. Mahesh represents the core values of the brand i.e. reliability, consistency, casual varsity, bold and glamorous clothing line".

Mr.Chaturvedi added: "Mahesh Babu would fit seamlessly into our new campaign for Andhra Pradesh. As Provogue's new Brand Ambassador he will be playing a key role in our future product communication and promotion. It is our privilege to be associated with an actor of his caliber and excellent standing in the entertainment industry.

Commenting on his association with Provogue, Mahesh Babu said, "According to me, Provogue is a brand which stands for Fashion itself. Being amongst the top brands of the country, it has always leaded the market with its innovative designs. It's a fashion brand with which the youth can identify and associate with but at the same time its capable to redefine not just the term "Fashion" but one's personality".

Expressing his excitement, Mahesh Babu added: "It is a pleasure to lend yourself to a great homegrown brand that makes its presence felt in the global arena. Provogue appeals to me as a brand that stands for cutting-edge innovation, style and glamour. It is a brand that has redefined fashion in India and it's a great privilege for me to be associated with Provogue. I tend to endorse brands very selectively as I need to relate to the brand as well as believe in it. Provogue'sdesign, quality and value are unrivalled and I am delighted to be associated with one of India's premier fashion brand .I am delighted and happy to know that Provogue is very serious and commited in their plans for Andhra Pradesh and they have an exciting range of Autumn Winter Collection. I am confident that the collection will appeal too many and I look forward to an exciting journey with them."