Cabela's retail operating margins expand 250 basis points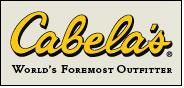 Cabela's Incorporated reported record revenue, operating profit and earnings per share for third quarter fiscal 2010.

For the quarter, consolidated operating income increased 15% to $36.6 million compared to $31.9 million in the third quarter of 2009. Operating margins increased 60 basis points to 5.7% compared to 5.1% in the third quarter of 2009. Increases in operating profit were due to higher merchandise gross margins and strong comparable store sales. For the quarter, net income increased 5% to $19.7 million, or $0.29 per diluted share, compared to $18.8 million, or $0.28 per diluted share, in the third quarter of 2009.

Cabela's recently completed the sale of its non-strategic Van Dyke's Restorer's business and in the process took a third quarter non-cash impairment charge of $.03 per diluted share. Exclusive of impairment charges, for the quarter, net income was $21.6 million compared to $19.0 million in the third quarter of 2009 and diluted earnings per share were $0.31 compared to $0.28 in the third quarter of 2009. A detailed reconciliation is provided at the end of this release.

For the quarter, adjusted for divestitures, total revenue increased 3.9% to $643 million; retail store revenue increased 6.0% to $369 million; direct revenue decreased 1.1% to $219 million; and comparable store sales increased 2.4%. Financial services revenue increased 10.9% to $53 million.

"We are focusing on improving merchandise gross margins, expanding retail operating margins and improving return on invested capital," said Tommy Millner, Cabela's Chief Executive Officer. "In the third quarter, we were very pleased with the significant improvements in merchandise gross margins and retail operating margins, while managing working capital, which led to a 90 basis points improvement in return on invested capital."

"We are particularly pleased with the improvement in merchandise gross margins, which expanded 170 basis points to 34.5% in the quarter, our second consecutive increase and the biggest increase we have seen in more than three years," Millner said. "These improvements were broad based as margins improved in all five of our merchandise categories. Three ongoing initiatives contributed to margin expansion in the quarter: better pre-season planning, greater vendor collaboration and improvements in in-season management. These broad-based improvements give us confidence that merchandise gross margin expansion will continue throughout this year, and we expect to achieve our three year goal of improving merchandise gross margins 200-300 basis points by the end of 2012."

"Profitability in our retail segment improved 250 basis points in the quarter," Millner said. "This is the sixth consecutive quarter of improvement in retail segment profitability. The increase in retail operating margins is primarily due to increases in merchandising gross margins and reducing expenses as a percentage of sales."

"As a result of the significant improvements in profitability during the quarter, we chose to make additional investments in direct marketing costs and retail labor," Millner said. "In our direct business, we mailed additional catalogs and increased circulation further building our market position and heightening our brand awareness and loyalty. In our retail stores, in preparation for the holiday season, we hired additional employees to ensure we build on our industry leading customer service levels."