Sephora continues to surpass JCPs' expectations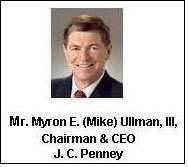 J. C. Penney Company Inc reported net income of $44 million dollars or $0.19 per share for the quarter ended Oct. 30, 2010, compared to $0.11 per share in last year's third quarter. Comparable store sales were positive for the third consecutive quarter, increasing 1.9 percent over last year. These results reflect the Company's focus on growing top-line sales in stores and online, while managing costs and expenses in order to drive profitability.

"We planned for our new merchandising initiatives to begin to take hold in the second half, and it's playing out this way. In addition to the highly successful launch of the iconic Liz Claiborne brand, which is now exclusive to JCPenney, we have seen clear signs of strength in key businesses, and our Sephora inside JCPenney concept continues to surpass our expectations.

"At the same time, our strengths in sourcing, and planning and allocation have allowed us to offer very sharp price points and to flow inventory into our stores in a way that reflects the ongoing trend of customers buying closer to need. Even including the impact of our strategic decision to wind down our catalog business, our improving sales combined with our focus on managing expenses allowed us to maintain strong profitability," said Myron E. (Mike) Ullman, III, chairman and CEO.

In the quarter, the Company launched several exciting merchandise initiatives, including Liz Claiborne, MNG by Mango(R) and Call it Spring(TM) by The ALDO Group -- all exclusive to JCPenney. The Company also opened 16 Sephora inside JCPenney beauty boutiques, and will end the year with 231 locations, bringing this highly successful offering to even more customers.

"As we enter the fourth quarter and all-important holiday season, our gift assortment is better than ever, including many exciting styles under our new brands. We expect the environment to remain highly promotional and we have planned a robust calendar of events to ensure customers know that JCPenney should be their first-choice shopping destination. The combination of great style, compelling value, and our award-winning customer service is designed to make the holiday shopping season rewarding and exciting for our customers and their families. Across our Company, there is a commitment to maintaining a culture of operational excellence and great enthusiasm about the progress we are making and the initiatives we are pursuing to drive growth now and over the longer term," Ullman added.

Sales
Comparable store sales for the quarter increased 1.9 percent over last year, the Company's third consecutive quarter of growth. Internet sales through jcp.com were $361 million in the third quarter, increasing 3.0 percent over last year as the Company's online growth initiatives begin to take hold. Overall, the strongest merchandise results were in shoes and men's apparel, and geographically, the best performances were in the southeast and southwest regions ofthe country. Total sales increased 0.2 percent for the quarter. As expected, total sales for the quarter were impacted by the Company's discontinuation of its Big Book catalogs this year.