Truly great clothing to change the world, Mr Tadashi Yanai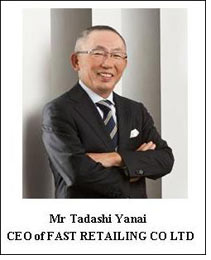 FAST RETAILING's ultimate objective is to create truly great clothing and, by doing so, to generate unprecedented new value. Tadashi Yanai, Chairman, President & Chief Executive Officer of FAST RETAILING CO LTD wants to enable people the world over to experience the joy, happiness and satisfaction of wearing great clothes. We are committed to successfully bringing our FR WAY to the world by using the strengths inherent in the Japanese mindset, namely a mentality that stresses diligence and teamwork, and in the Japanese culture, with its passion for making clothes and the premium it places on customer service.

Enhancing Our Products to Achieve Sustainable Growth
Continuing the trend from last year, we again saw a dramatic increase in revenue and profit in the first half of the year ending August 2010 (the period between September 2009 and February 2010). The main reason for this success is the expansion of the UNIQLO business, especially the solid sales of our global flagship stores in New York, London and Paris. We were able to report a profit in all of the countries in which we operate for the first half of the 2010 fiscal year.

We view this as evidence of the enthusiastic support that UNIQLO is receiving from customers worldwide. We now have the ability to compete as equals with other leading global retailers, such as H&M, ZARA and GAP. I am now starting to feel that we will even be able to surpass them.

Seizing the opportunity to go global
In the business year through August 2010, FAST RETAILING recorded significant gains in both sales and income. Results in the first half of the year were bolstered by our UNIQLO Japan operation enjoying extremely robust sales of HEATTECH products--which achieved a major breakthrough in popularity--in the fall and winter sales season. Meanwhile, brand awareness of UNIQLO continued to surge overseas, buoyed by the success of our Paris global flagship store as well as the incredibly positive reception to our collaborative efforts with a prestigious designer Ms. Jil Sander.

However, in the second half of the business year, performance at our UNIQLO Japan operation declined due to a number of factors. This was primarily due to an excess variety of products, resulting in a failure to focus sufficiently on and convey to consumers the goodness of our basic, mainstay products, which have historically been our strong suit. This failure taught us anew that our biggest strength--and what we need to continue to do to be successful--is responding to the true needs of our customers by supplying highly polished products made from high-quality materials.

High Expectations for Asia's Promise
For fiscal 2010, UNIQLO International continued to grow its business and is on track to reach sales of 100 billion yen in the business year ending August 2011. We have particularly high expectations for Asia, with our attention focused on markets including China, South Korea, Hong Kong, Taiwan, Singapore and Malaysia because we see these as harboring immense potential for growth. In May 2010, we launched our global flagship store in Shanghai, which has proven successful. In October, Taiwan's first UNIQLO store opened its doors to the warmest, most enthusiastic reception witnessed at any inaugural store launch yet. On the heels of this, in November we launched our first store in Malaysia and are looking to do the same in Vietnam, Thailand, Indonesia and the Philippines.