Esprit presents Military Inspired Collection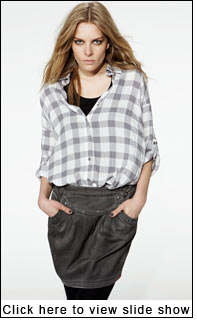 For many decades, military fashion has been dominant in the fashion circuit. This winter, redefine classic military fashion with the minimalistic, creative and urban collection from Esprit. The collection has the best of military styles with innovative colors, silhouettes and shapes.

edc by Esprit : The military inspired collection is graceful when teamed with contradictory elements like feminine tops and white silk shirts. Cope with the winter in vintage glamour by pairing your favourite Esprit military jacket with big chunky belts and bright scarves. Carry off a new look with military inspired dresses that has sophisticated rock star elements for a cool preppy look. For a Keisha inspired look, pair up used leather jackets with animal printed tops, tight military trousers and sturdy laced boots along with a sling bag. This bold statement will definitely grab some eyeballs.

Esprit Women Casuals works well if you like to dress creatively. If you like it basic yet fashionable use techniques like fishnets and a cool Esprit military wool blazer to keep it simple yet stylish. Women's casuals has a range of Denim jackets that work perfectly if worn with Military inspired shirts in colors like brown, green and beige. If you like it funky then a knee length skirt with long brown or beige jackets and sneakers in accent colors will do the trick. Make a bold statement with Esprit accessories like masculine flat shoes and chain belts.

Esprit Women's Collection is rock'n'roll inspired. Esprit is bringing back accessories like chunky belts and stylish boots which is a wardrobe quintessential for a military inspired look. The minimalistic military will look cool if worn with biker or suede boots and hard rock belts. Combine Military designed sweater with a skinny denim and shiny high heels for a New Yorker look. If you like it unconventional, carry off hot pants that are military inspired with loose boyfriend shirts, sling bags in like tan, beige for a sleek look.

edc for men refines subtle fashion. The collection is a stark contrast from the original military Eisenhower jackets and opulent combat boots. Military inspired collection has been dominating the wardrobes of many famous personalities including that of Prince William and Prince Harry. When it comes to the military style trend, think pea coats, cargo pants and vests. For a sophisticated yet rugged statement choose Esprit coats that come in great colors like Army green, browns and grey. Team them with dark blue jeans and a pair of aviator boots.

Esprit Men Casual: Camouflage is the hottest military inspired tone. Esprit Men's casuals come in basic shades like brown and green, Grey and green. There are also other hues that dominate the scene with shades like blue and black. Napoleon styled jackets with high stand collars is definitely the ruling element of a metro sexual wardrobe. No military-inspired wardrobe is complete without a pair of cargo pants. Wear them with Esprit's chequered shirts, classic white shirt or t- shirts for a flamboyant look.