Important issues highlighted by FIEO President in BoT Meeting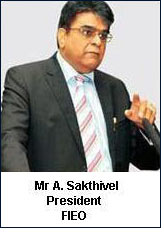 In the Board of Trade (BOT) meeting, Mr A, Sakthivel, President, Federation of Indian Export Organisations (FIEO) flagged number of important issues affecting competitiveness of Indian exports in the short as well as in the long run. The issues ranged from infrastructure constraints to high banking charges besides procedural complexities adding to transaction time and cost.

The brief of the important issues flagged by Mr Sakthivelin BOT included :

1 Extension of Interest subvention scheme till 31stmarch 2012 for all sectors:

The interest subvention scheme for the SME sector and few thrust export products would lapse on 31st of March, 2011.Presently the scheme cover specific products based on ITC(HS) Classification instead ofearlier classification of " product group" which was easier for banks to operate. The subvention scheme need to be extended for one more year till 31st March 2012 covering all sectors .The classification based on ITC(HS) should be dispensed with.

2 Non-availability of dollar loans for export finance :

MSME export sector has drawn our attention to the fact that after the announcement of the reduction in Foreign Currency Loans to LIBOR + 2% vide RBI Circular dated February 19, 2010, banks are refusing PCFC Loans.Prior to the reductions PCFC Loans were being extended at interest cost totaling 3.90% but with the refusal of the banks to provide dollar loans at the said rates, the credit costs (in rupee loans) have increased to twice the earlier rates.

3 Extension of Market Linked Focus Product Scheme for Garments to United States:

US is still recovering from the global slowdown and Indian exporters of garments are
facing stiff competition from Bangladesh, Sri Lanka, China, Vietnam and Turkey in US market. Therefore, there is an urgent need to extend the benefit of 2% Market Linked Focus Product Scheme given to apparel sectors for export to US beyond 30th of September, 2010 by at least for one year.

4 One time Amnesty for 12 months for Meeting Export Obligation under Export Promotion Schemes:

Due to global recession, exports have been affected adversely which eventually resulted in pending export obligation under Export Promotion Schemes. Exporters may be given relief by granting one time amnesty for 12 months for meeting export obligation for Authorizations issued on or after 1.4.2002 under Advance Authorisation Scheme and EPCG Scheme.

5 EDI connectivity between all Agencies related to Exports:

It is imperative that all community partners like Customs, DGFT, Banks, Shipping Agencies, Export Inspection Agencies, Export Promotion Councils and other regulatory agencies that are involved in the process of export and import should be brought on board, the EDI connectivity, for rendering highly effective and efficient EDI enabled services to exporters and importers.

6 Rupee Appreciation and measures needed to counterit:
The rupee has reached a 25 month high of 44.17 to a US$ on 7th October, 2010 and has settled at 45.65 to a US$ as on 24th November, 2010. The increase has been on account of record inflows by foreign institutional investors (FIIs) resulting in the rupee appreciating by about 5% since 1st September, 2010. US Federal Reserve's move to buy US$ 600 billion in government's security will lead to a surge in hot money inflow into India. US would be raising another US$ 300 billion shortly.