MarediModa IntimodiModa - a successful event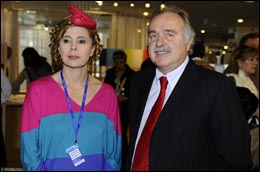 Despite the persisting awful international economic crisis, the ninth edition of MarediModa IntimodiModa (November 26-26, Palais des Festivals, Cannes) has come to its end and has recorded an increase of visitors by 5%.

Considering the rigid and transparent registration criteria, such an encouraging result becomes responsible for the fair optimism among trade operators and acquires even greater significance in view of the successful and valuable contacts experienced by the exhibiting companies at the fair:

A unanimous satisfaction against the energy spent and the novelties introduced with this edition. We are referring to the new and more contemporary "total white" look for example, which has presented booths as frames of precious textile works. For the first time in its history, the fair has hosted a prominent show of a quite international importance: Vintage Holidays from 30's to 80's, whose curator has been the famous collector Franco Jacassi;

A quite charming trip through the history of beachwear, displayed by the original garments of the period with some wonderful and evocative background images. Unique and exclusive garments from the most worldwide famous fashion houses: in conclusion, a very interesting, motivating and inspiring opportunity for the designers who were present. Quite successful has also been the workshop "THE EUROPEAN CREATIVITY WILL SAVE US" with its main actors Vassilis Masselos, President of the International Apparel
Federation (IAF), Agatha Ruiz De la Prada, a designer and a supreme creator, Karine Boyer, Head of Style and Design Department at Banana Moon and Claudio Taiana, President of Maredimoda Intimodimoda.

It is no coincidence that this year's claim "Europeans do it Better", appeared in the worldwide press campaign, has succeeded in perfectly and promptly responding to the second thoughts and concerns of those who had their fingers burnt by the negative experiences in the so-called "low cost" countries, and once and for all, the concept has been stated that "margin" is the last thing that comes to mind when quality and product ethics, as well as product history and product future are called into question.

"Our fair keeps on drawing success and raising consideration - states President Claudio Taiana - indeed, it is not only the expression of a relevant exhibiting event but rather a platform of advanced services for companies which aim at creating and producing with very special criteria. We aim at defending quality against the desperate massification, without granting any space to contemporary ambiguousness."

"Our objective - goes on Taiana – has always consisted in maintaining our authentic and genuine approach, without avoiding however any virtuous contamination, but rather preserving our own identity. The quite lucky and awkwardly imitated Outsourcing Show for example, is an opportunity for those qualified Euro-Mediterranean companies which present themselves as a suitable alternative to the already consolidated traditional Far Eastern realities which are quite often unreliable and also culturally so far away from our European sensibility".